10 Best Louis Vuitton Hats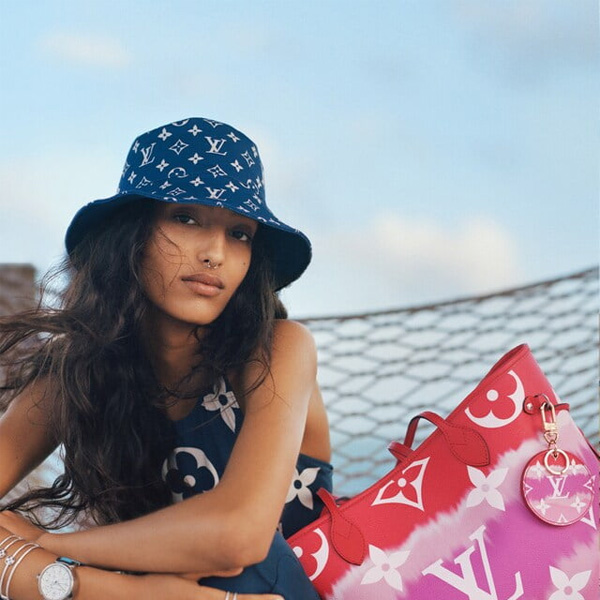 Whether it's the summer, winter, fall, or spring, a high-quality hat is essential. After all, it will protect your ears from the cool wind and your eyes and scalp from the bright sun.
That said, you may be looking for a designer option that'll add a dressier, more elegant touch to your look.
Fortunately, we've rounded up the 10 best Louis Vuitton hats to help you decide which one (or two, or three) you'll want to add to your wardrobe. From winter beanies to baseball caps to bucket hats, there's something for everyone.
But before we delve into the 10 best Louis Vuitton hats, we'll provide you with a list of some key things to consider, followed by answers to important FAQs. Plus, we'll share a few styling tips, so you'll feel all set to shop for an everyday hat that's right for you.
Finding The Best Louis Vuitton Hat
Since LV is a designer label, there are plenty of things to consider when shopping for a hat.
First up? Think about when you'll wear it! Choose the season you're shopping for, and then consider how often you'll wear the hat.
The style should be versatile enough for everyday wear, but unique enough to add a fun and vibrant touch to your daily wardrobe. The material matters, too! If you want something warm and cozy, opt for a knit wool or cotton cap. And if you desire a more breathable option, consider linen.
Finally, be sure to set a budget to determine what you're willing to spend, especially since it's a designer item. With all that in mind, our list of the 10 best Louis Vuitton hats
features something that everyone will like, but you'll have to keep reading to find out more.
The 10 Best Louis Vuitton Hats
As we've established, the best Louis Vuitton hats come in plenty of different styles to meet your needs year round. With unique embellishments and color palettes, it's a great way to accessorize and add a fun, bold touch to your daily attire.
From bucket hats to winter beanies and more, there's a style that will suit anyone's needs. Below, we've compiled a list of the 10 best Louis Vuitton hats to help you find the perfect option(s).
Plus, we'll delve into all the different styles available, their materials, how they look, how much they cost, and more.
1: LV Match Bucket Hat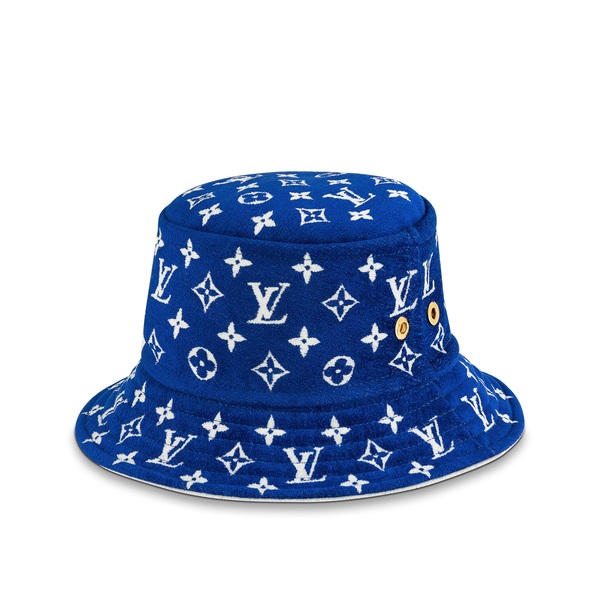 The LV Match bucket hat is defined by its plush texture and athletic references. It is crafted from luxurious velvet and finished with the iconic Monogram pattern.
This new style is part of the Pre-Fall 2022 Capsule Collection that celebrates the world's four historic tennis tournaments: the US Open, French Open, Australian Open and Wimbledon.
Price: $690.00
2: LV Crochet Stripes Bucket Hat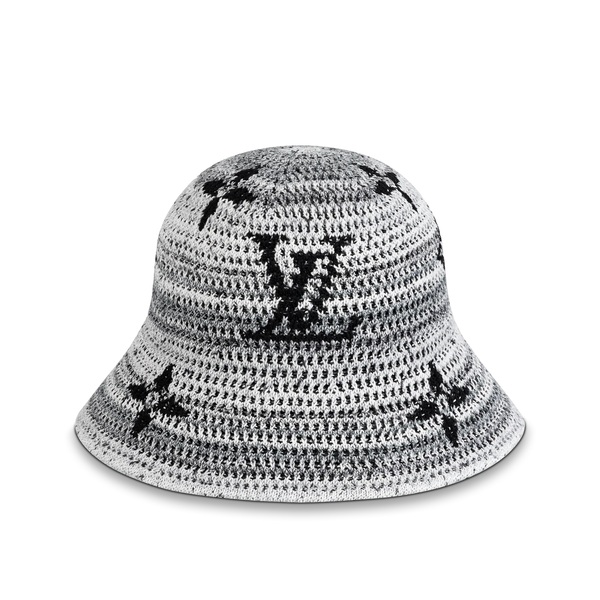 The LV Crochet Stripes Bucket Hat showcases the iconic LV Initials alongside elements from the Monogram pattern, knitted in contrasting colours.
It is crafted from a blend of cotton and technical yarn to ensure it maintains its shape. A soft ribbon on the inside makes it comfortable to wear.
Price: $760.00
3: LV Graphical Bucket Hat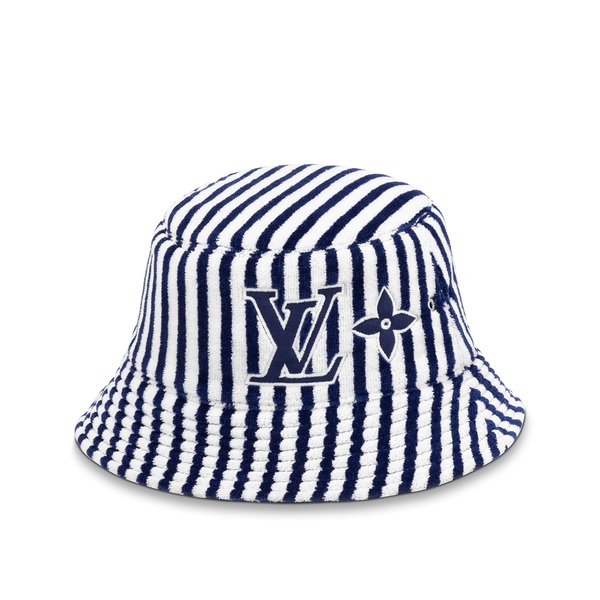 The LV Graphical Bucket Hat is reversible, presenting two contrasting options for different moods. One side is striped and detailed with laser-cut patches of the LV Initials and Monogram Flower, as well as signature-engraved eyelets. The reverse is more understated, in a solid colour with bold LV Initials embroidery.
Price: $800.00
4: LV Bucket Mongram Appearing
The Monogram Appearing Bucket Hat is a reversible piece with a playful twist. One side is dark-colored and features a tone-on-tone version of the House's classic Monogram pattern. The other side is a lighter color and is water-reactive, with a Monogram pattern that appears when it is wet.
Price: $760.00
5: Bob Everyday LV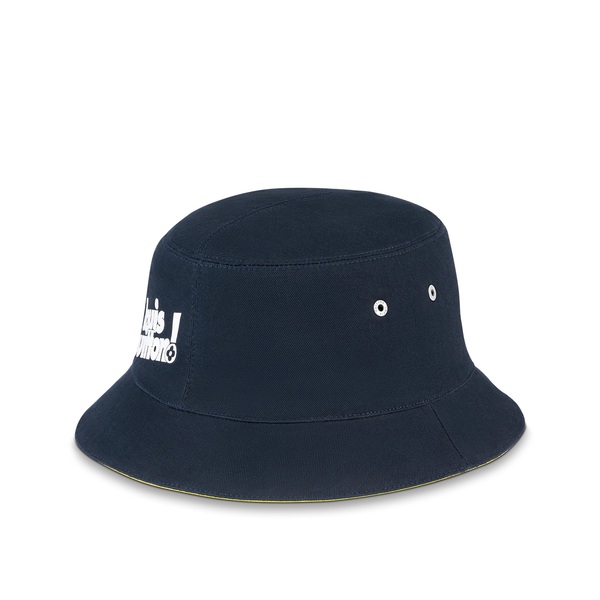 The Bob Everyday LV Hat combines classic style with the House's fun visual identity for the Fall-Winter 2021 collection. One side of this reversible item features a Louis Vuitton signature! against a plain background. The other side reveals a contrasting jacquard weave that subtly shows off the Monogram print.
Price: $676.49
6: LV Summer Hat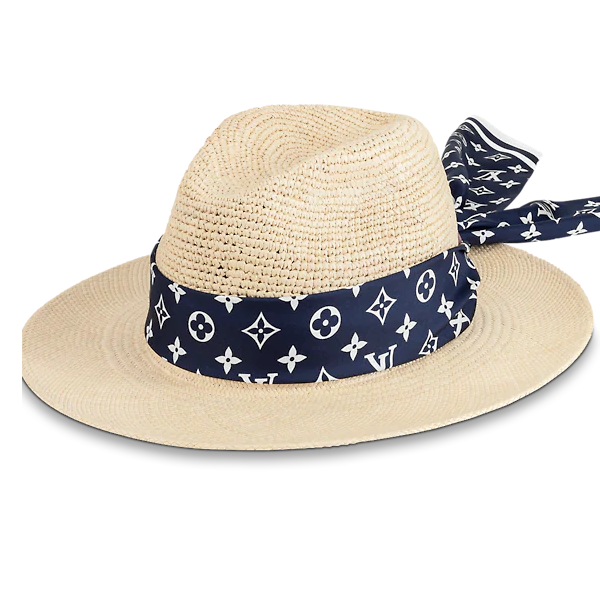 The LV Summer Hat is a stylish option for sun protection all summer long. This lightweight piece is made from real straw and is finished with a pure silk scarf wrapped around the middle.
To contrast the natural texture, the scarf is printed with the House's iconic Monogram pattern and finished with the Louis Vuitton signature near the edge.
Price: $1,160.00
7: Carry On Bob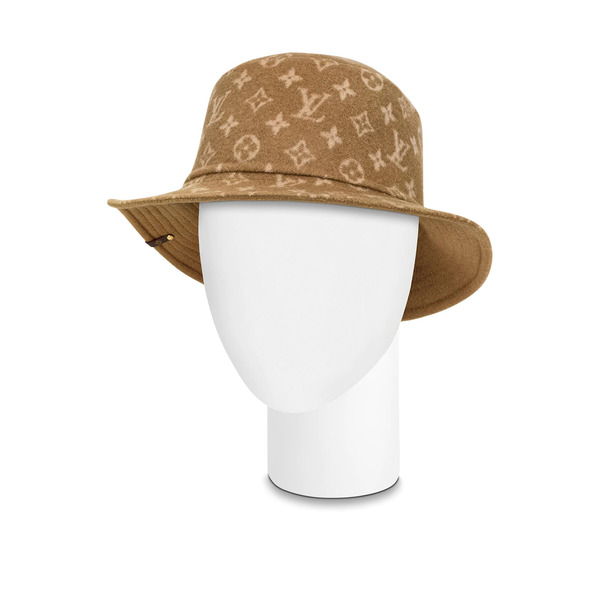 The Carry On Bob hat is a new accessory for Spring-Summer 2021. This reversible style features a Monogram motif on one side and solid color on the reverse for a more understated option. A Monogram canvas strap adds a luxurious touch to this casual piece.
Price: $760.00
8: Monogram Bandana Bucket Hat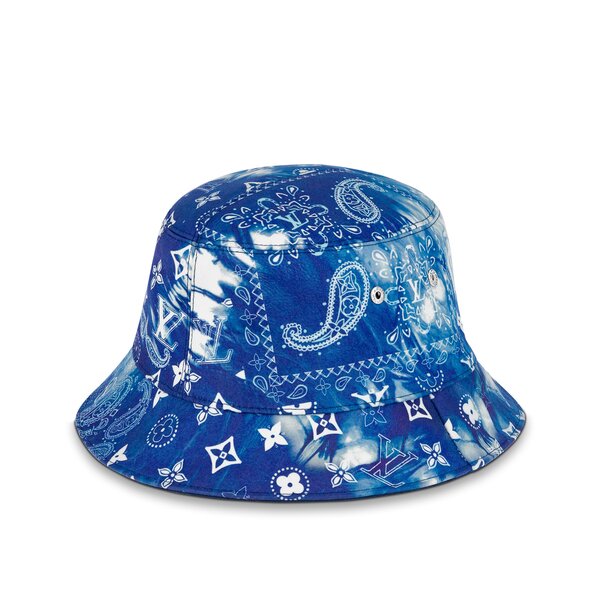 The Monogram Bandana Bucket Hat is a reversible accessory that offers two different looks. One side of the hat features the House's new Monogram Bandana print seen throughout the Fall-Winter 2022 Collection. On the reverse, the Louis Vuitton signature is embroidered on a solid colour backdrop.
Price: $690.00
9: LV Monogram Essential bucket hat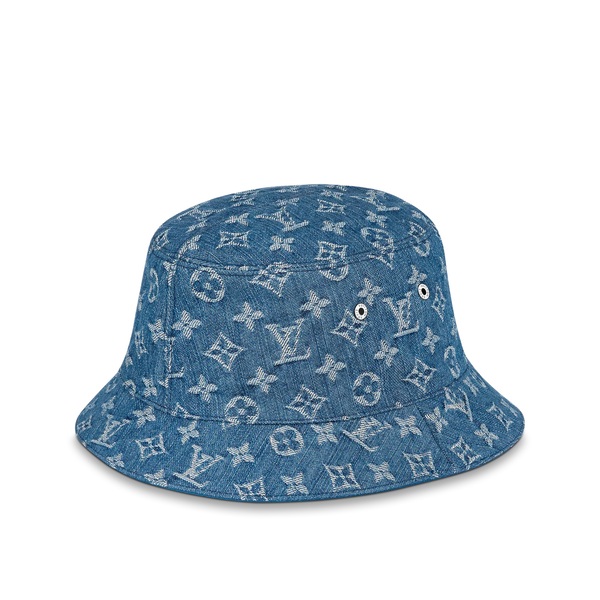 The Monogram Essential bucket hat has a fashion-forward aesthetic that complements the denim story from the Spring-Summer 2021 Shoes collection. Detailed with a Monogram pattern on one side, the hat is created using a jacquard weave technique and features a solid color on the reverse. A foil Louis Vuitton signature adds a finishing touch to this reversible style.
Price: $690.00
10: LVacation Hat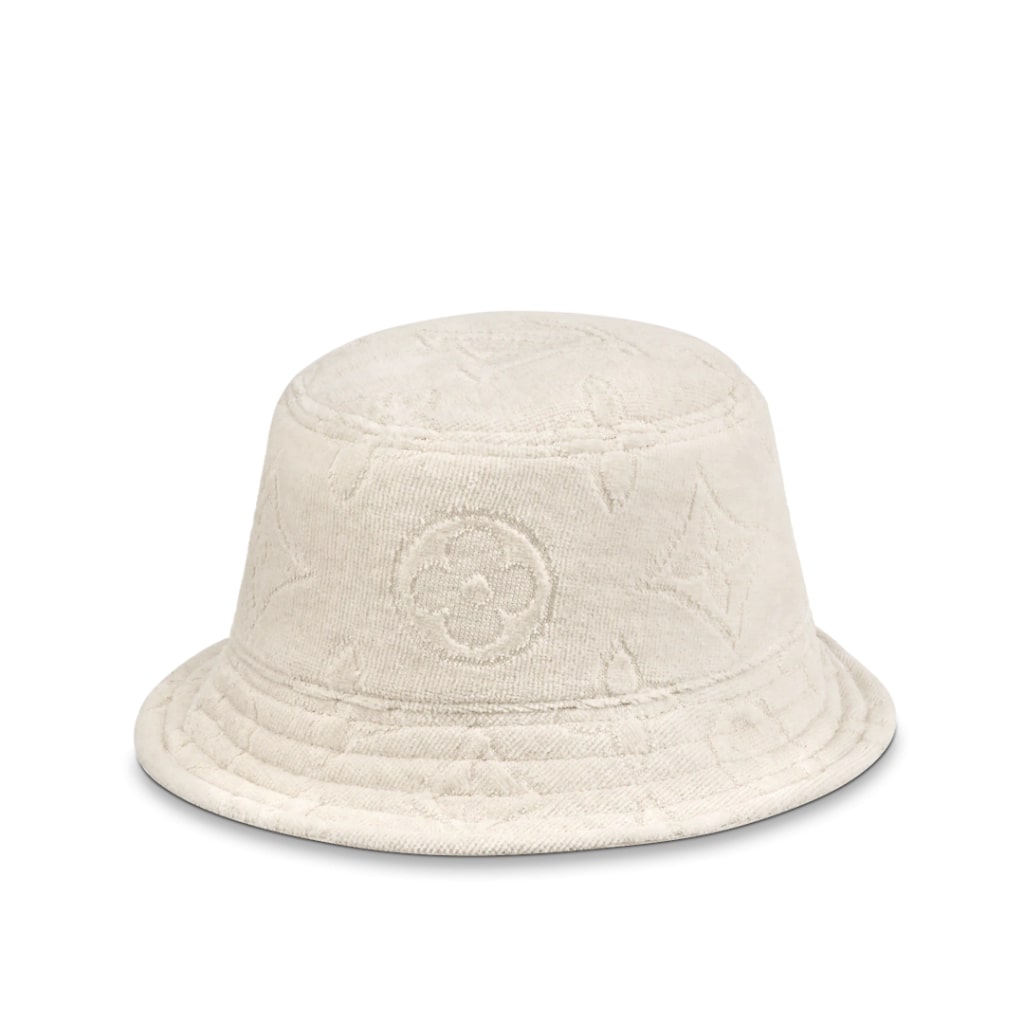 The LVacation hat is a reversible accessory that's perfect for the summer season. One side of this cotton piece has a textured 3D jacquard with Monogram Flowers, while the other features the Louis Vuitton signature, allowing for multiple wears. This hat's classic shape makes it a timeless option.
Price: $690.00
What Are The Most Popular Louis Vuitton Hats?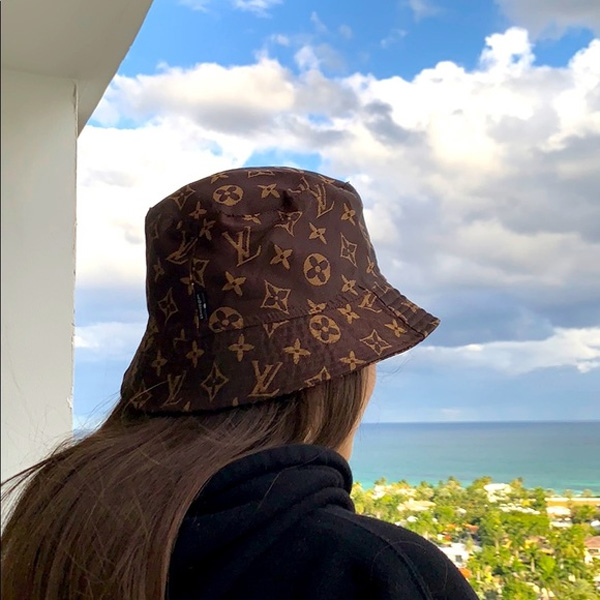 The most popular Louis Vuitton hat is probably either a snapback or baseball cap. They come in plenty of different color options and designs, and they're also ideal for everyday wear.
Baseball caps have definitely made a comeback in recent years and are a versatile option. They pair seamlessly with casual fits and add a more relaxed touch to anything more sophisticated. That being said, the best Louis Vuitton hat is the one that suits your needs best!
Where Are Louis Vuitton Hats Made?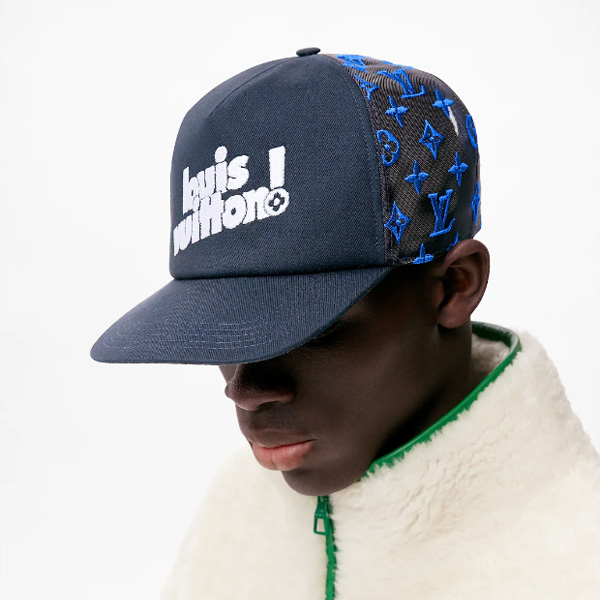 Committed to quality, Louis Vuitton makes all of its products, including the options featured in our list of the best Louis Vuitton hats, in its workshops located in France, Spain, Italy, and the United States.
To find out where a specific item is made, simply check the description. The hat should also be engraved with a serial number and stamp which indicate where it's made.
Are Louis Vuitton Hats Good Quality?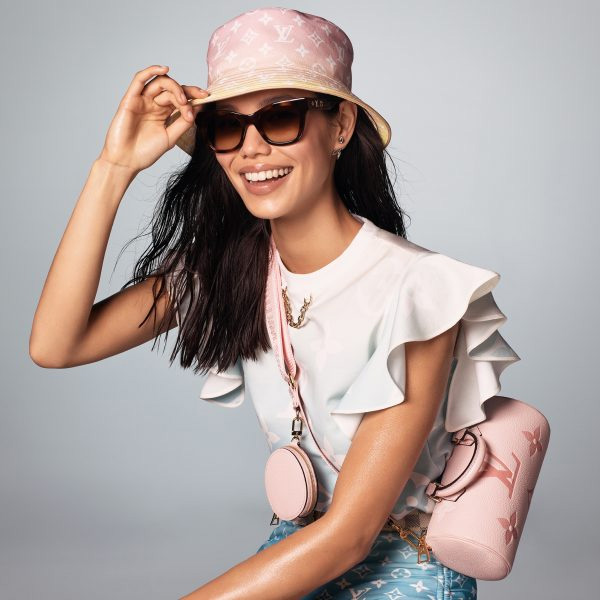 Louis Vuitton is known for putting plenty of thought into each and every detail—no matter the item. So, it's easy for our guide to say that the products are of exceptional quality.
Louis Vuitton is committed to offering unmatched detail and quality to ensure the best finished product. So, every LV hat is meticulously handcrafted from high-quality materials and includes unique features and touches.
How To Style Louis Vuitton Hats
Now that we've covered some of the 10 best Louis Vuitton hats, you may be wondering how to style them. Below, we'll share some inspo pics and ideas to get you started.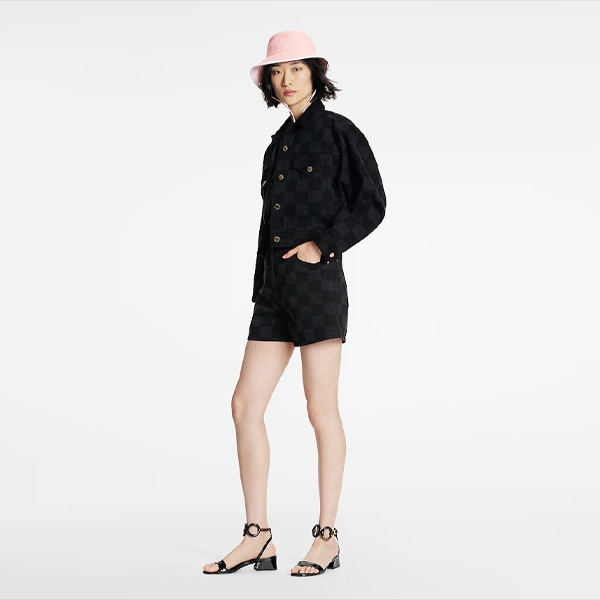 Vacation ready
This look was made for roaming the streets of Italy. It features a pink bucket hat and matching denim LV set, not to mention a pair of chic kitten heels. Wear a bikini underneath and you'll be ready to set sail to paradise!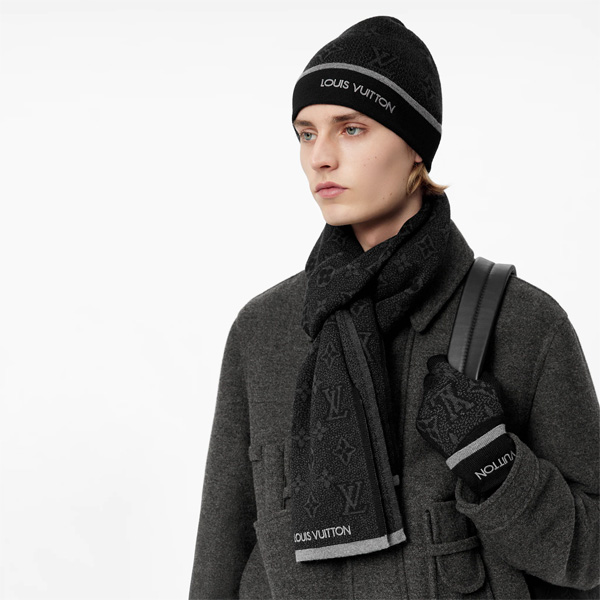 Cool and sophisticated
While winter tends to rear its ugly head in no time flat, you can be prepared and look good too with an LV beanie. This monochrome option plays with dark tones. It features a matching scarf and pair of gloves layered atop a warm gray pea coat.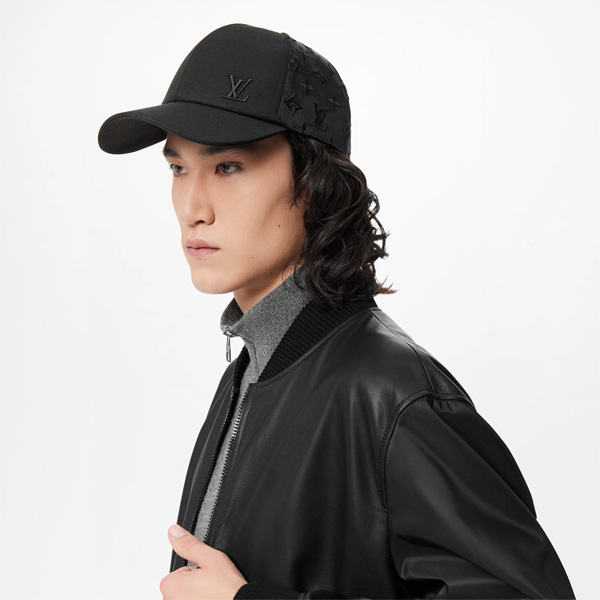 Sporty
A baseball cap is the best way to make any look more casual—and this matte black LV hat does that especially well. The mock neck shirt and leather jacket keep things a little more sophisticated, while the ball cap adds a sporty touch.
Get Access to Exclusive Deals
Subscribe for free to get exclusive deals in your inbox. 100% privacy