10 Best Dior Heels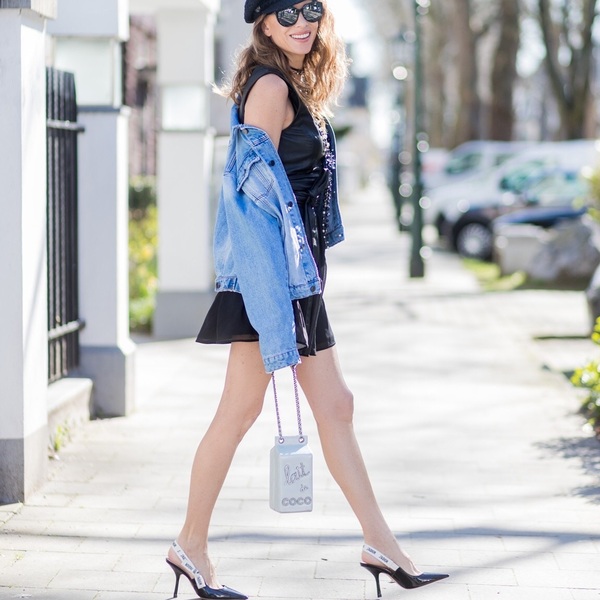 Dior's heels have remained a popular item in their catalog since their inception. The difference between a pair of Dior heels and any other pair of high heels is that while the latter can help you stand out, the former stands out on their own.
I'll be ranking my picks for the best Dior heels so that you can decide which ones deserve a place in your closet. You might just have to dust off your pedestal first because you're going to want to put the shoes above everything else in your footwear collection.
Finding The Best Dior Heels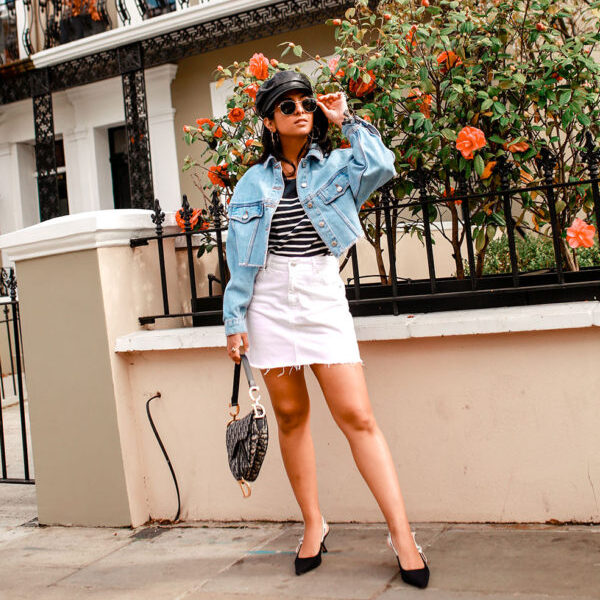 You probably don't need me to tell you this but Dior heels are big investments. They are quite expensive because they come from one of the most renowned designers on the planet.
That being said, price isn't everything. Finding the best Dior heels comes down to knowing what you prioritize in a pair of shoes.
For instance, do you want the most affordable shoe available regardless of how much it costs? Or, do you have a more flexible budget and want to splurge on a pair of heels you can rely on for all your events?
Also, consider when, where, and how you'll wear your pair as you read through my picks for the best Dior heels.
The 10 Best Dior Heels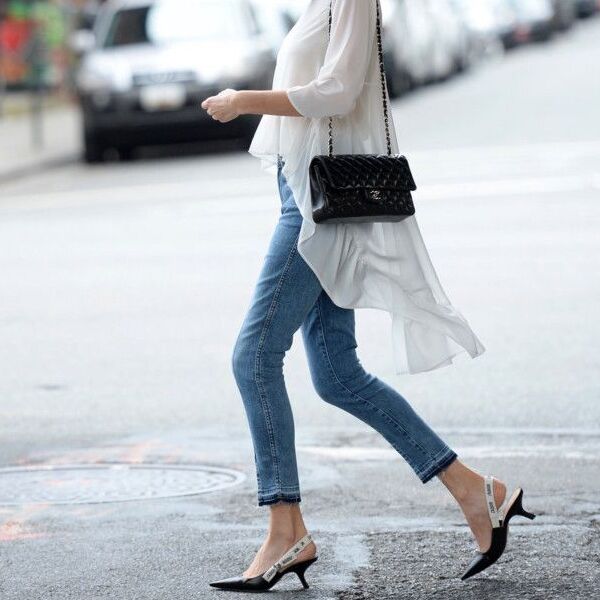 Let's move on to my list of the 'best Dior heels.' I'll highlight how each shoe balances comfort, visual design, price, and versatility.
Knowing which of these factors is the most important to you will help you determine which heel belongs on your foot.
1: J'Adior Slingback Pump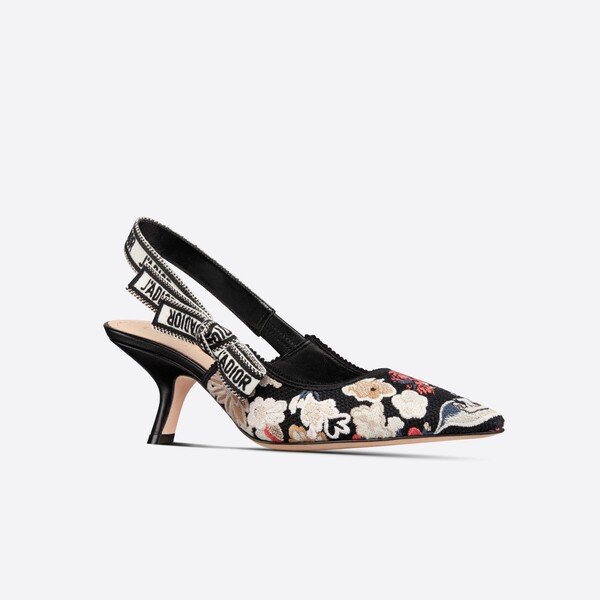 The J'Adior slingback pump is a prime example of Dior's savoir-faire. On this black multicolor embroidered cotton design, Maria Grazia Chiuri proposes a new Pop version of the iconic Toile de Jouy motif with an exotic mythological scene enhanced by metallic thread. The two-tone strass 'J'ADIOR' ribbon, bow and 6.5 cm (2.5) comma heel complete the elegant and refined creation.
Price: $1,150.00
2: J'Adior Slingback Pump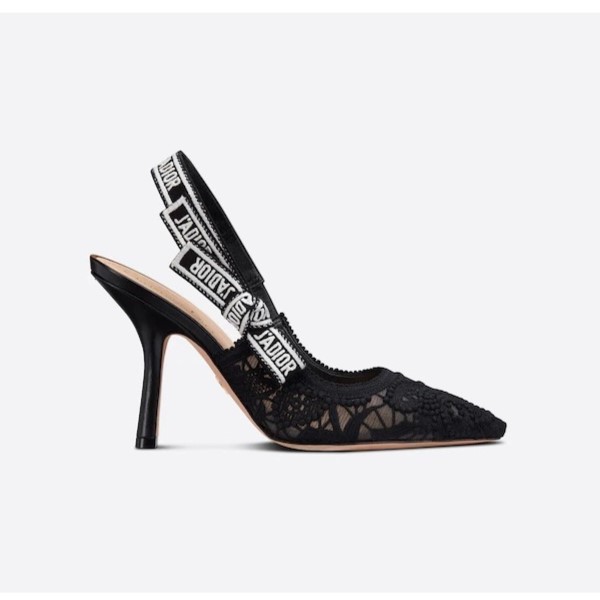 The J'Adior slingback pump is a prime example of Dior savoir-faire. The embroidered cotton design is enhanced by a black macramé motif in an elegant play on transparency. The 'J'ADIOR' embroidered ribbon, the bow and 10 cm (4) comma heel complete the refined and elegant creation.
Price: $1,450.00
3: D-Clash Pump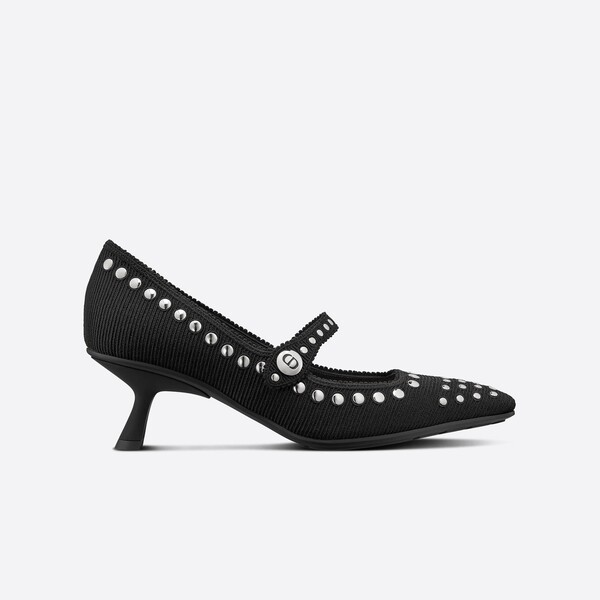 The D-Clash pump is a creation that playfully combines elegance and modernity. Crafted in black embroidered cotton, the style is distinguished by silver-finish metal rivet detailing and a strap with a decorative 'CD'-engraved button. The black rubber sole offers ultimate comfort, while the square toe and the 5.5 cm (2) heel add the finishing touch to this sophisticated shoe.
Price: $1,650.00
4: D-Motion Pump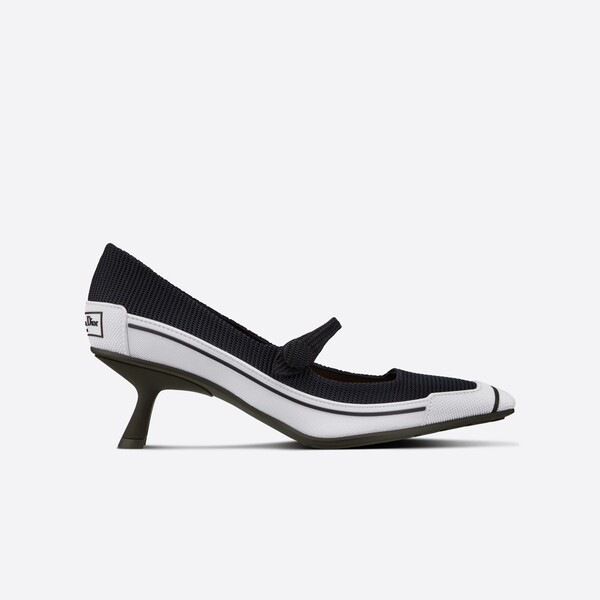 Already an icon of the collection, the D-Motion pump features a hybrid design, joining elegance with elements borrowed from sportswear. Crafted in black textured technical fabric, the style is distinguished by a white and black rubber sole and a strap with a tonal decorative button, as well as a 'Christian Dior Paris' signature at the back. The square toe and 5.5 cm (2) heel lend the finishing touch to this modern shoe, which can be worn with mesh high socks.
Price: $1,050.00
5: La Parisienne Dior Pump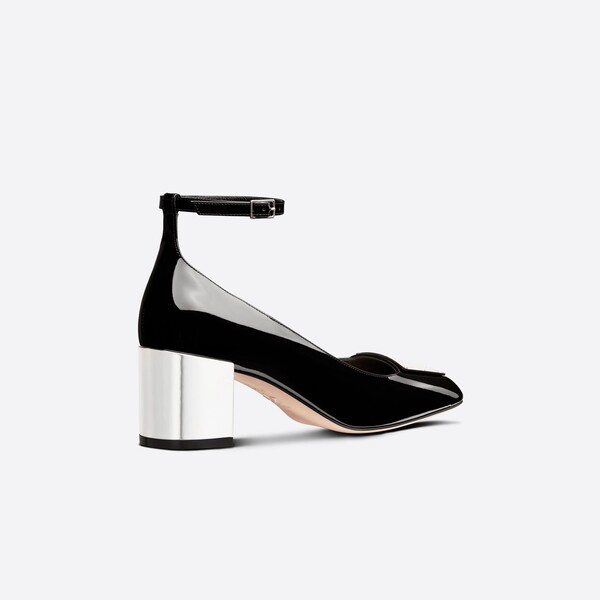 Updating the classic Mary Jane, the La Parisienne Dior pump plays on the codes of modernity and retro elegance. The black patent calfskin design has a slightly square toe, further embellished with a silver-tone mirror-effect 'CHRISTIAN DIOR PARIS' plate. Completed by a 5.5 cm (2) heel, the shoe will lend the finishing touch to any outfit.
Paris: $1,090.00
6: Dior Capture Pump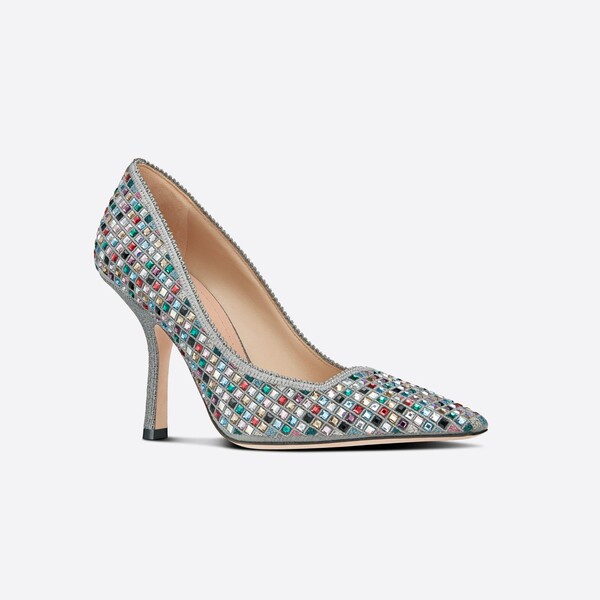 The Dior Capture pump is a delicate creation that is both elegant and modern. The exceptional design is crafted in silver-tone cotton embroidered with metallic thread, further adorned with multicolor square strass, offering a graphic aesthetic. A fully embroidered 10 cm (4) comma heel lends the finishing touch to the sophisticated shoe, an ideal choice for evening attire.
Price: $2,090.00
7: Dior Attract Pump Mule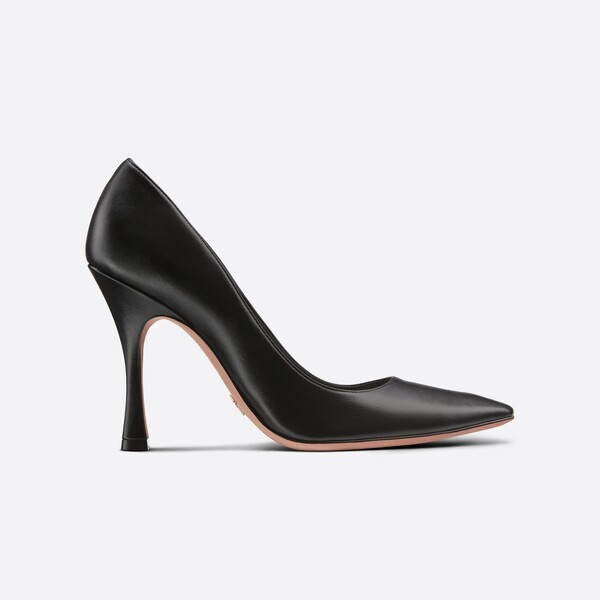 The Dior Attract pump is a sophisticated and contemporary style. Crafted in black supple calfskin, Maria Grazia Chiuri pays homage to the House's archives with the pump's diamond toe. The elegant style is completed by a 10 cm (4) heel.
Price: $890.00
8: Dior Captute Heeled Mule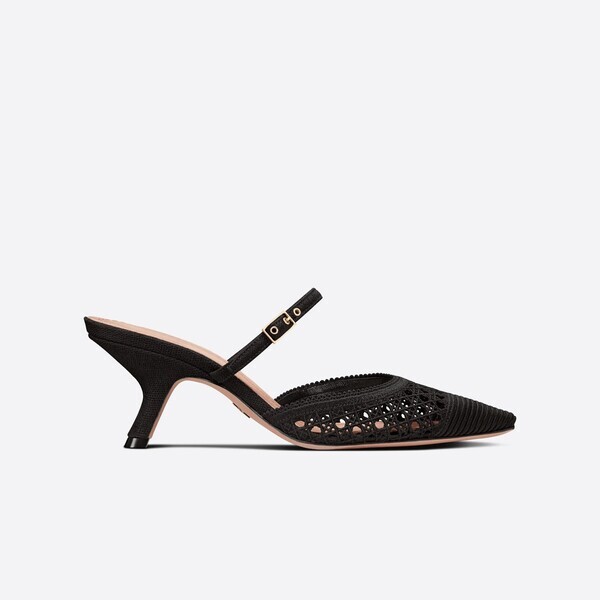 The Dior Capture mule is a delicate creation that combines elegance and modernity. The design plays on House codes and is crafted in black Cannage embroidered cotton mesh. Its adjustable strap and fully embroidered 6 cm (2.5) comma heel bring the finishing touch to this sophisticated shoe.
Price: $1,190.00
9: Dway Dior Slide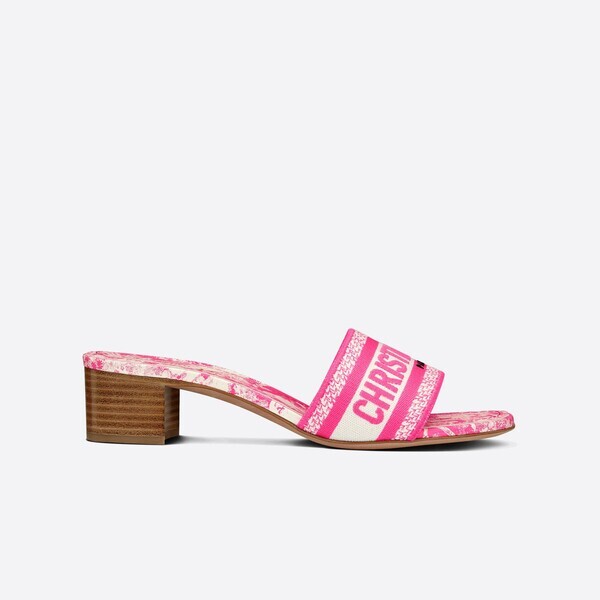 Part of the Dioriviera capsule collection, the Dway heeled slide boasts a timeless and emblematic silhouette and highlights the House's iconic Toile de Jouy motif. The bright pink upper is embroidered with a 'CHRISTIAN DIOR' signature, making it an immediate statement piece. Featuring a 4 cm (1.5) block heel, the slide lends a modern touch to any look and can be paired with other Dioriviera creations.
Price: $850.00
10: Dway Heeled Sandal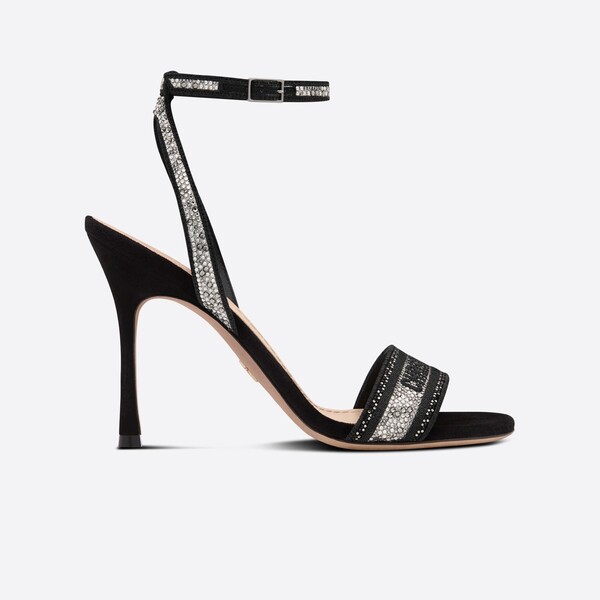 The Dway heeled sandal elegantly reimagines one of the House's hallmark creations. Crafted in black embroidered cotton adorned with silver-tone strass, it is distinguished by an array of delicate straps revealing an embroidered 'CHRISTIAN DIOR' signature on the upper. Completed by a 10 cm (4) heel, the exceptional shoe is ideal for formal attire.
Price: $1,850.00
What Are the Most Popular Dior Heels?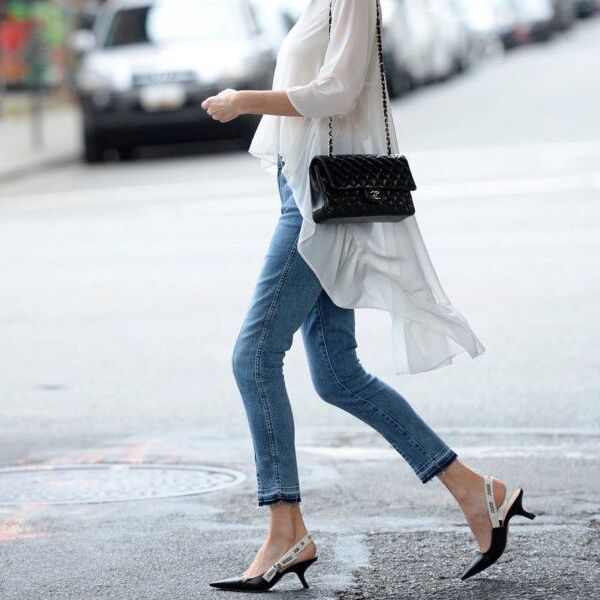 Although Dior makes heels of all varieties—including pumps, slingbacks, and stilettos—there's a clear winner of the popularity contest. The Dior J'Adior shoe is easily the most popular heel in their collection.
One reason for their popularity is because their design is so adaptable.
You can purchase the Dior J'Adior shoe as a lower or a higher heel and in multiple colors. And nearly every one of them looks good enough that I'd dump my bank account to build a collection of them.
Do Dior Heels Run True To Size?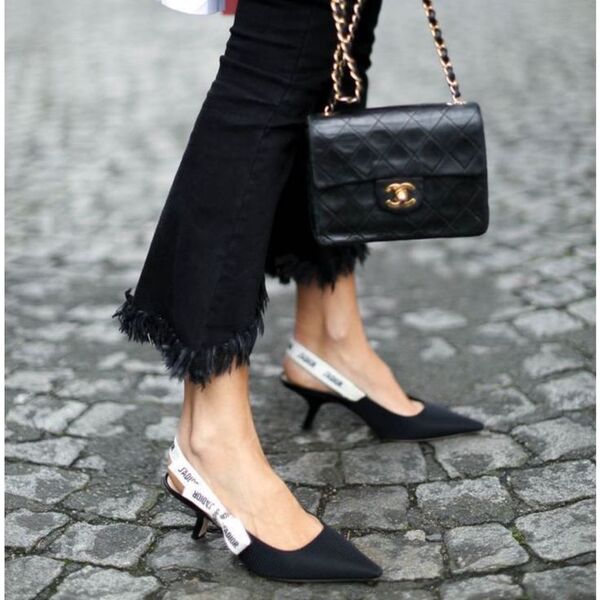 I've seen conflicting information regarding whether or not the best Dior heels run true to size. Dior claims that their shoes are true to size but then they add that shoppers should order half a size larger than their regular size.
This is confusing because if they run true to size then why would you need to order a slightly larger size? Well, it's because Dior heels are relatively thinner than other heels.
So, purchasing a half a size above your normal size should give your feet a bit more real estate to move around in.
Internet commenters have also said that they usually buy Dior heels either half a size or a full size larger than their true size. With all that said, here's my recommendation: try Dior heels on in person before you buy them if possible.
How Can You Tell If Dior Heels Are Real?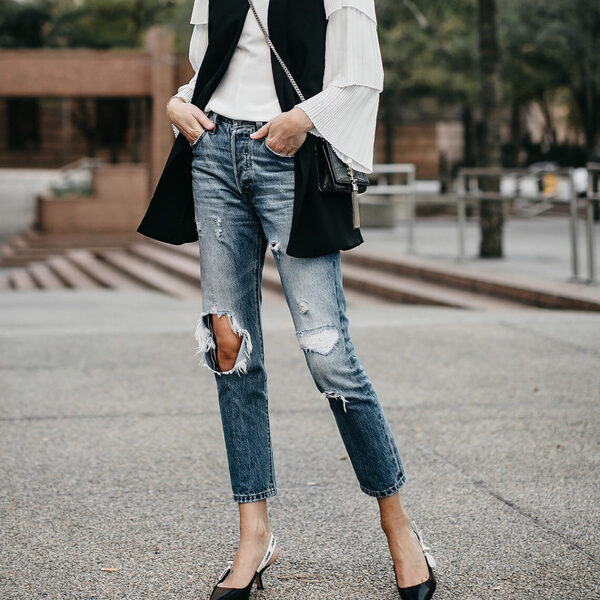 You can sometimes tell if a pair of heels is real or fake based entirely on how they feel.
For example, the Dior J'Adior has a permeable material that allows air to flow to your toes. So, they should feel light and airy—whereas fake Dior heels will feel cheap even though they look the same.
Also, real Dior heels have a thicker heel for the most part, so take a look at the heel's width to determine if your pair is real or not.
Where Are Dior Heels Made?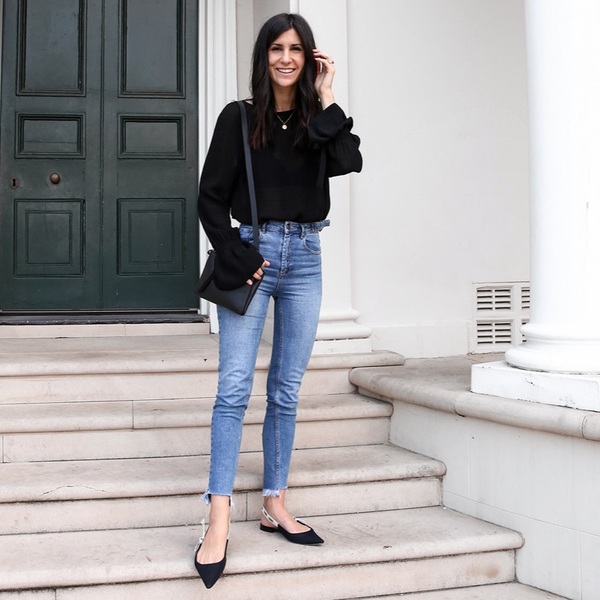 The majority of the best Dior heels are made in Italy. There are some shoes that the brand manufactures in Spain but I'm unsure if this includes their heels.
How To Style Dior Heels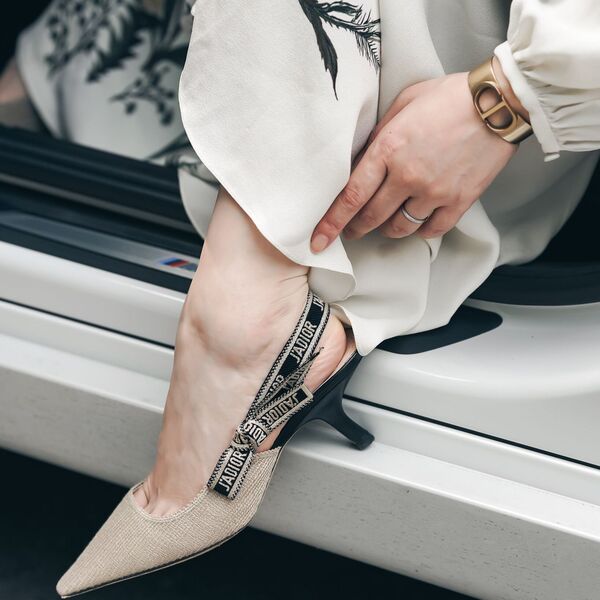 You can match your Dior heels to a sleek pair of pants that follow a similar color scheme. Styling them like this promotes synergy between the shoes and the rest of the outfit.
Plus, it allows the heels to shine without coming off like you're trying to showboat.
Another way you could style Dior heels is by wearing a skirt or dress that ends above your knees. This gives the luxurious heels more 'room to breathe' so that they'll act as the focal point of your outfit.
Get Access to Exclusive Deals
Subscribe for free to get exclusive deals in your inbox. 100% privacy