10 Best Designer Cosmetic Bags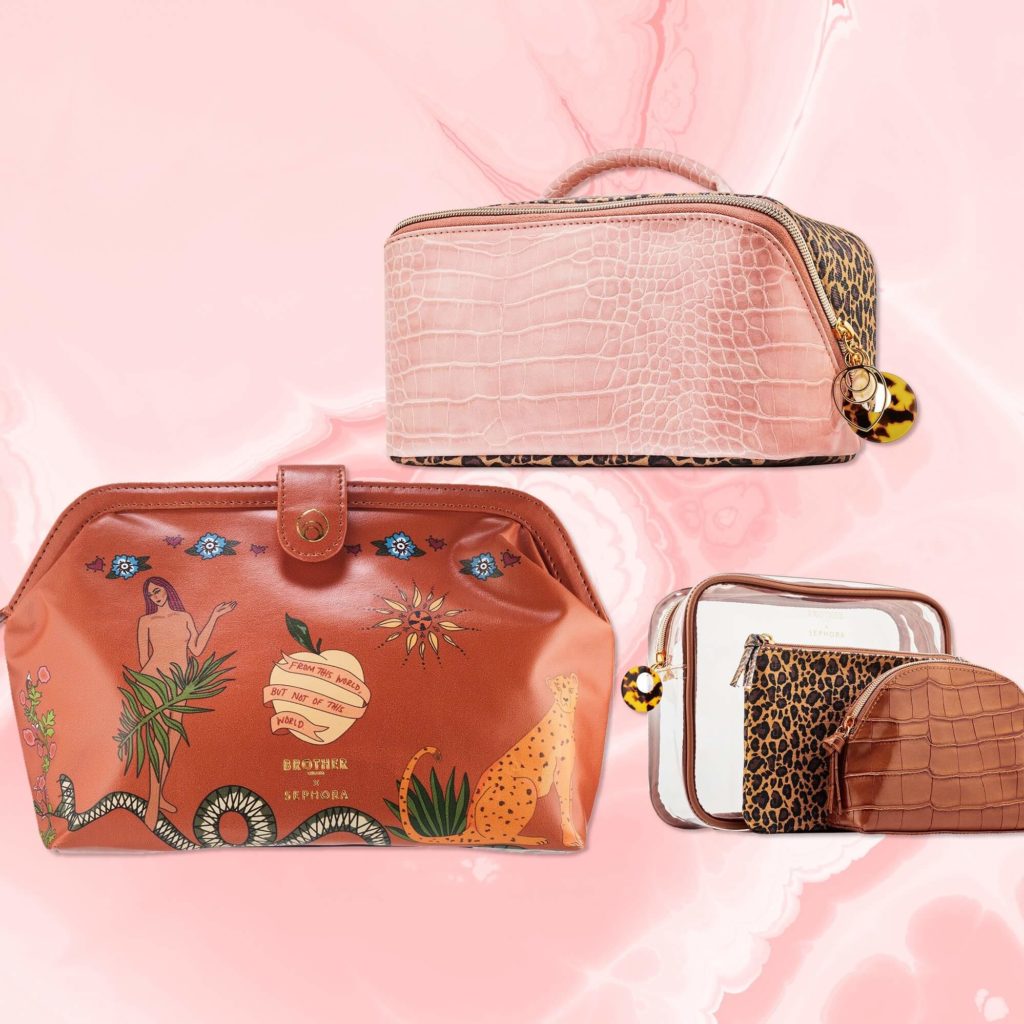 You're lusting to be a perfectly curated gal who seems to have it all together, and you're realizing it's all down to the details… and that plastic baggie in your purse isn't doing anyone any favors. Perhaps your vanity is a complete disaster, and you're tired of having all your products rolling off.
Maybe you're the girl who wants to travel in style, but that Louis Vuitton luggage isn't in the cards yet. Worry not! A designer cosmetic bag is the answer to all your woes. Whether your designer travel cosmetic bag lands in your luggage, tote, or everyday purse, these luxe options are sure to add a touch of glam to all your carry ons. 
Lucky for you, we've curated a list of the 10 best designer cosmetic bags on the market that are equal parts practical and chic.
How to Choose The Best Designer Cosmetic Bags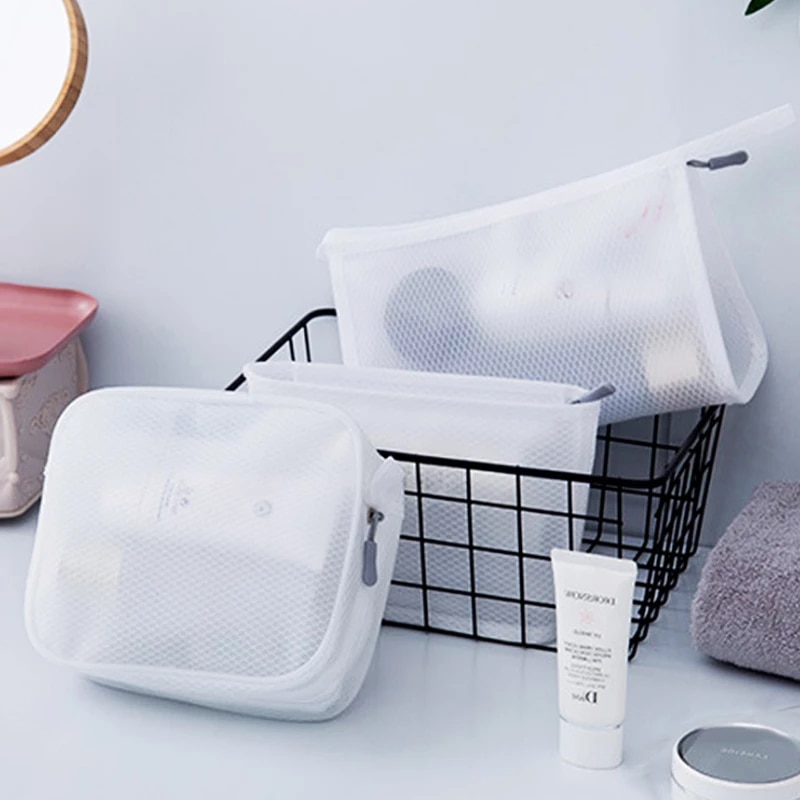 With so many brands to choose from – and a variety of considerations to be made – it's important to make a meaningful purchase. When it comes to anything designer, you're making a large investment in your look. But, a designer cosmetic bag is something you'll pack again and again, and if you're going to splurge, it's better to spend a little extra on something useful.
Ultimately, having a luxury cosmetic case should make you feel glamorous. First, consider where you'll be using your bag: at the gym, at home, or inside a purse? Next, how much are you willing to spend? Does the price correlate to how durable your cosmetic bag will be? Also consider…
Brand
Every design house carries its own aesthetic. Once you venture into the luxury fashion world, you'll notice that each brand embodies a unique perspective on style – that's why two heavyweights like Louis Vuitton and Anya Hindmarch can both create similar totes, but with polarizing features. 
Branding is especially important to consider if recognition and emblems are important to you. Brands like Gucci have changed their emblem in recent years – with much success – but, this means that it may change again with time. While Mulberry is less flashy, its postman's turn-lock is a signature understated element on many of its products.
Once you have determined the level of branding you'd prefer, it's time to think about which brand's style fits your taste. Perhaps you prefer a clean and pared-down look, and your tastes are more suited to the likes of Smythson or Bottega Veneta. Determining what brand fits with your personal style is key to getting the most use out of your cosmetic pouch.  
Material
Choosing the right material for your designer cosmetic bag can make a serious difference in how it looks in ten years. The best designer cosmetic bags are made with nylon and canvas, because they tend to be more durable than leather. That said, having a cosmetic bag with grained, coated leather can be just as hard-wearing if taken care of properly.
Alternatively, coated canvas tends to be more fuss-free and can be wiped down with a baby wipe or damp cloth. If sustainability matters to you, try looking for a brand that manufactures its products with recycled materials and/or sustainable practices.
Another thing to consider is your cosmetic bag's lining: if it's made from fabric, chances are that it's washable. A washable lining makes life easier when your concealer decides to leak or your setting powder spills. After the initial upset passes, you'll be able to sleep at night knowing a quick wash will remove unsightly stains.
Price
The prices of designer cosmetic bags can vary greatly, depending on the brand. The lowest on our list comes from Marc Jacobs at $104.35 and the highest priced designer cosmetic bag comes from Bottega Veneta at $570. Majority of the items on our list of the best designer cosmetic bags are priced above the $300 mark, with two items surpassing the $500 price point.
So, if you're looking for something on the lower end of the spectrum, there are two options available for under $200 and five options for under $400. Here's our list of the best designer cosmetic bags, ranked from least to most expensive:
Marc Jacobs The Beauty Triangle Pouch, $104.35
Cuyana Leather Travel Case Set, $120
Mulberry Darley Cosmetic Pouch, $224 – $325
Smythson Panama Cosmetic Case, $317.08
Anya Hindmarch Night and Day Pouch, $367.84
Prada Nylon Pouch, $421.38
Gucci GG Marmont Cosmetic Case, $450
Bottega Veneta Small Jacquard Cosmetic Case, $570
Fendi Beauty Pouch, $520
Louis Vuitton Cosmetic Pouch, $550
10 Best Designer Cosmetic Bags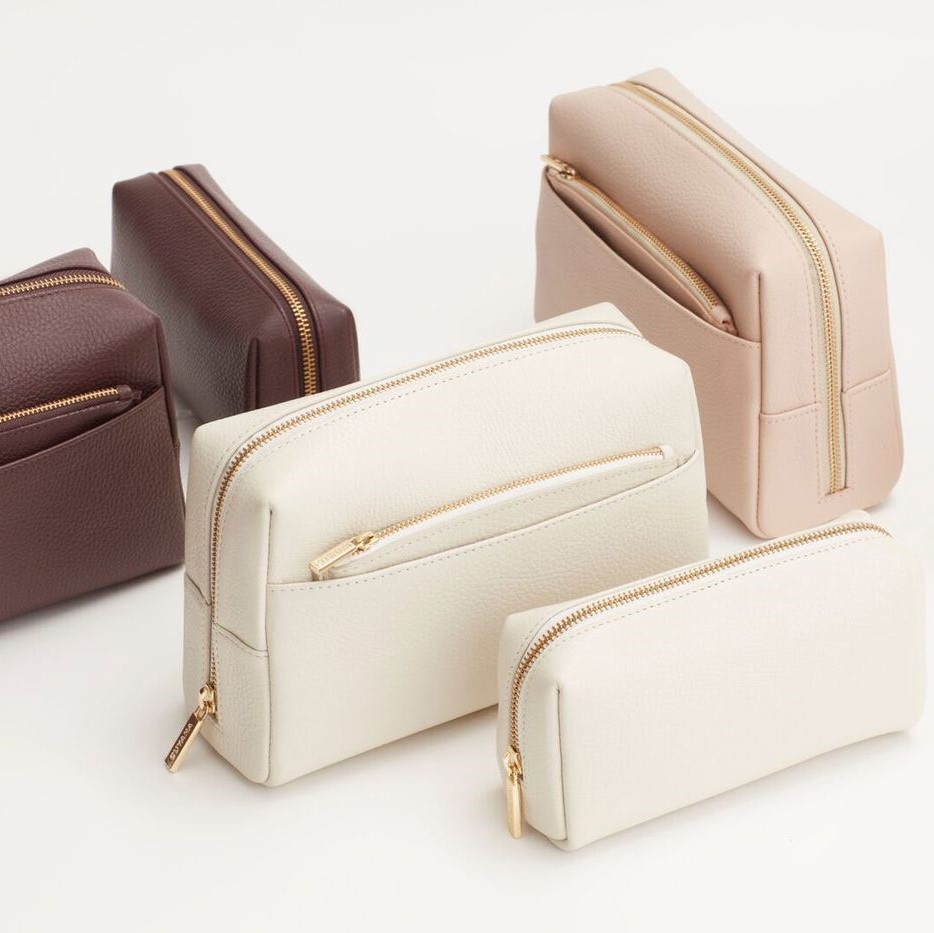 Our selection of the designer cosmetic bags has been evaluated with aesthetic, materials, functionality, size and color in mind. We have also noted current sales so that you can shop til you drop! Happy browsing.
#1 – Gucci GG Marmont Designer Cosmetic Bag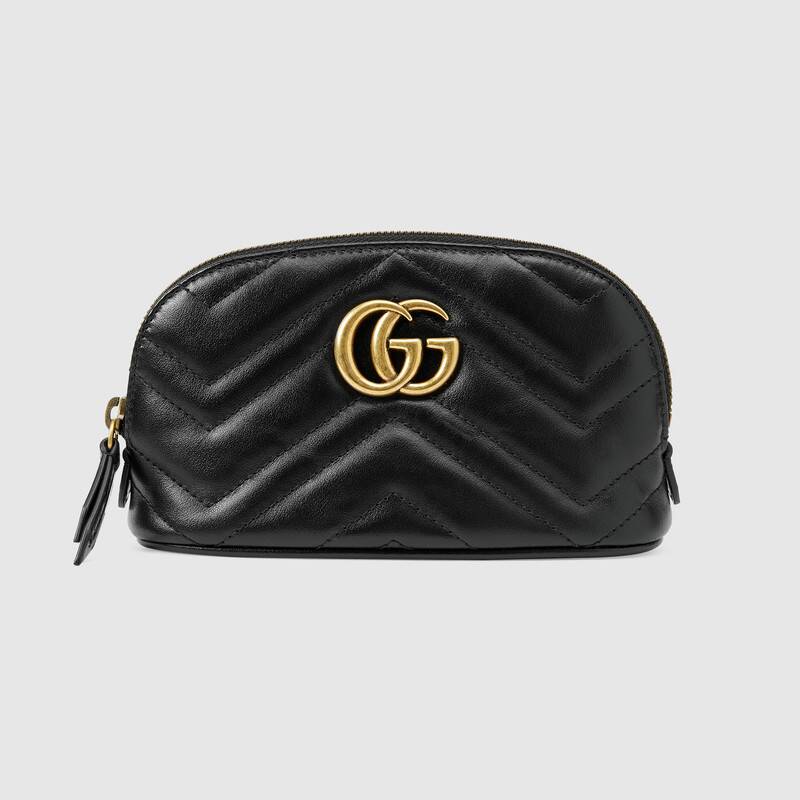 This Gucci designer cosmetic bag is recognizable for its stunning quilted matelassé leather design and iconic GG Marmont emblem. Another beautiful feature of this cosmetic pouch is its dome-like shape, with curves that are accentuated with the chevron leather quilting. Plus, it comes in what Gucci calls antique gold-toned hardware.
A medium-sized option at seven inches long, 4.5 inches tall, and one inch deep, it comes in an easy to clean nylon material with a single zip closure. The outer shell is made of delicate leather that's painted in exciting colors like blue, yellow, and pink. Out of all the colourways available, the black and gold combination remains the most popular.
As one of the most high maintenance options on our list, it will require some looking after. But the style is trendy and opulent, and well worth the $450 price tag (if you ask us).
#2 – Louis Vuitton Designer Cosmetic Bag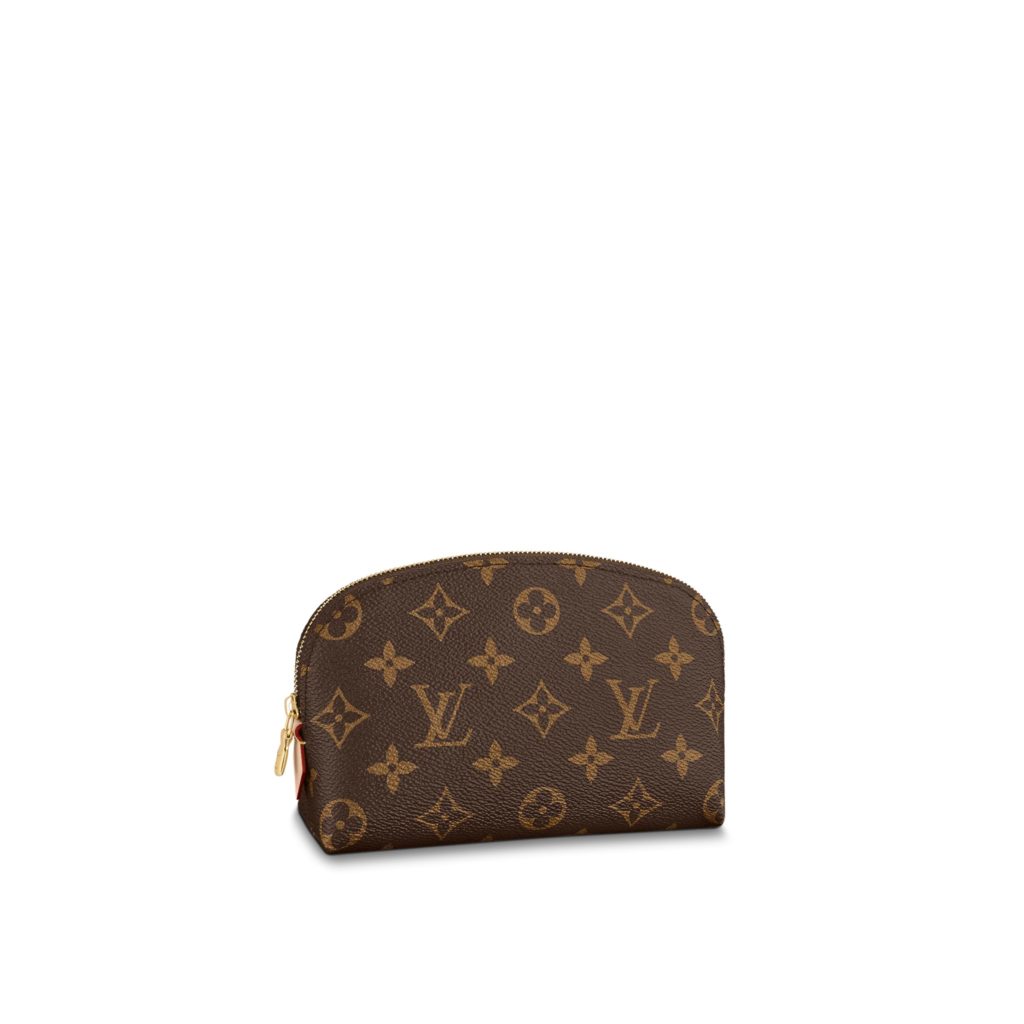 Louis Vuitton comes in at the top of the list in terms of price, but what it lacks in affordability it delivers in functionality. The brand strikes the perfect balance between luxury and durability with this tough canvas cosmetic bag which has an easily washable lining inside. It comes in a variety of materials including an elegant Epi leather for $550.
This cosmetic pouch also comes in two sizes: the Cosmetic Pouch and the Cosmetic Pouch GM. The latter weighs in at 6.7 inches long, 4.7 inches tall, and 2.4 inches deep, and the former adds about two extra inches on the length and width for those that like to carry more with them. An added bonus is the small inner wall pocket that stores frequently used flat items like gum or blotting sheets. 
The bag's rounded design allows it to fit into tapered bags, as well as any suitcase or duffle. The shape is classic and Louis Vuitton nailed it in with the finer details, including a small amount of vachetta leather near the gold-toned zipper, which will develop patina overtime.
#3 – Prada Nylon Designer Cosmetic Bag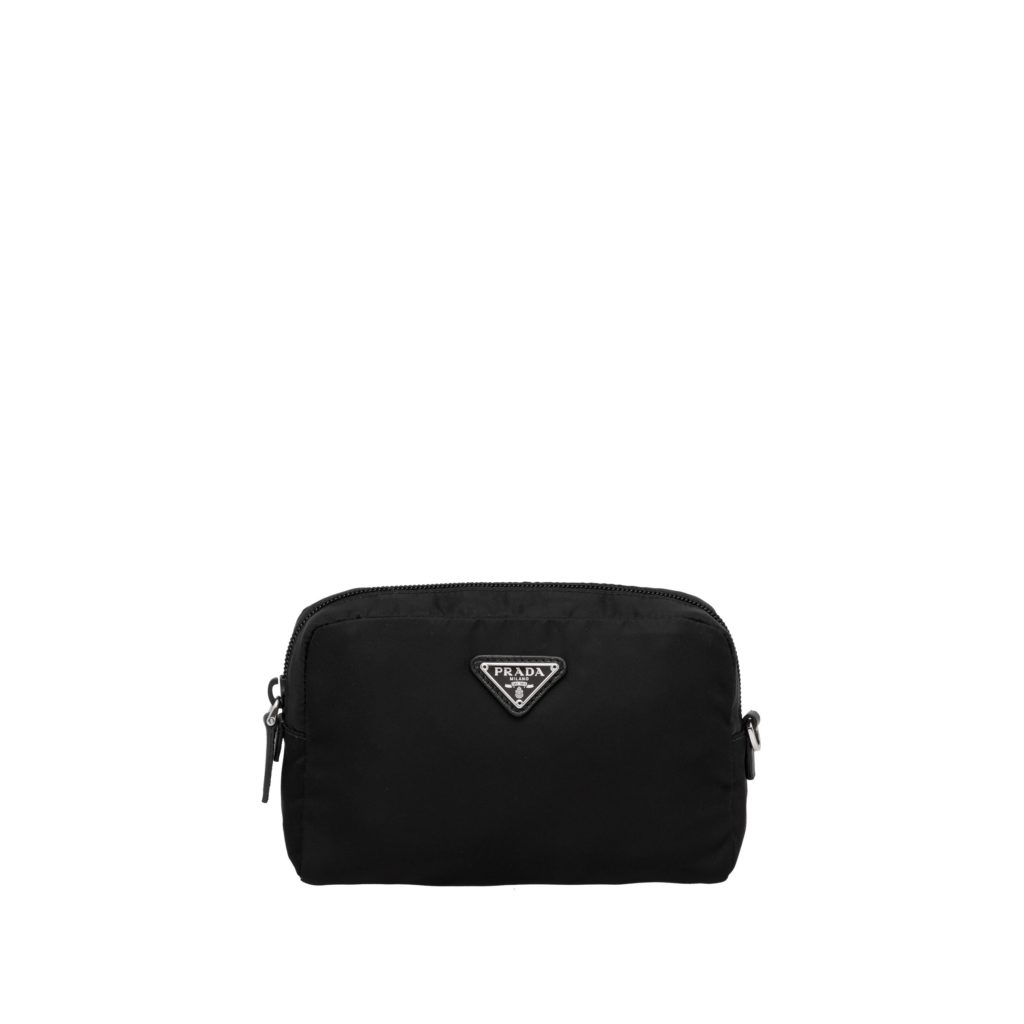 Prada's take on a cosmetic bag comes in a boxy shape with rounded corners and is fabricated with the brand's well-loved nylon material. Given its practical construction, Prada has pulled out all the stops to make this pouch look and feel special. They've added an enamel logo – not once, but twice! – and embellished the outside with their sleek triangular metal logo. 
Small leather details around the zipper and the addition of a removable leather strap makes it the perfect grab-and-go option for travel. Not only does the leather strap give you more bang for your buck, it also adds versatility to an already practical and durable design. This bag contains no inner wall pockets either – not that those tiny pockets fit much anyway.
In terms of size, this designer travel cosmetic bag is very comparable to the Louis Vuitton option, sitting at 6.7 inches long, 4.3 inches tall, and 1.9 inches deep. It also comes in a limited assortment of colors such as beige, bright blue, and orange. This is a strong contender for a more trendy pouch that's actually built to last for $421.38.
#4 – Cuyana Leather Designer Cosmetic Bag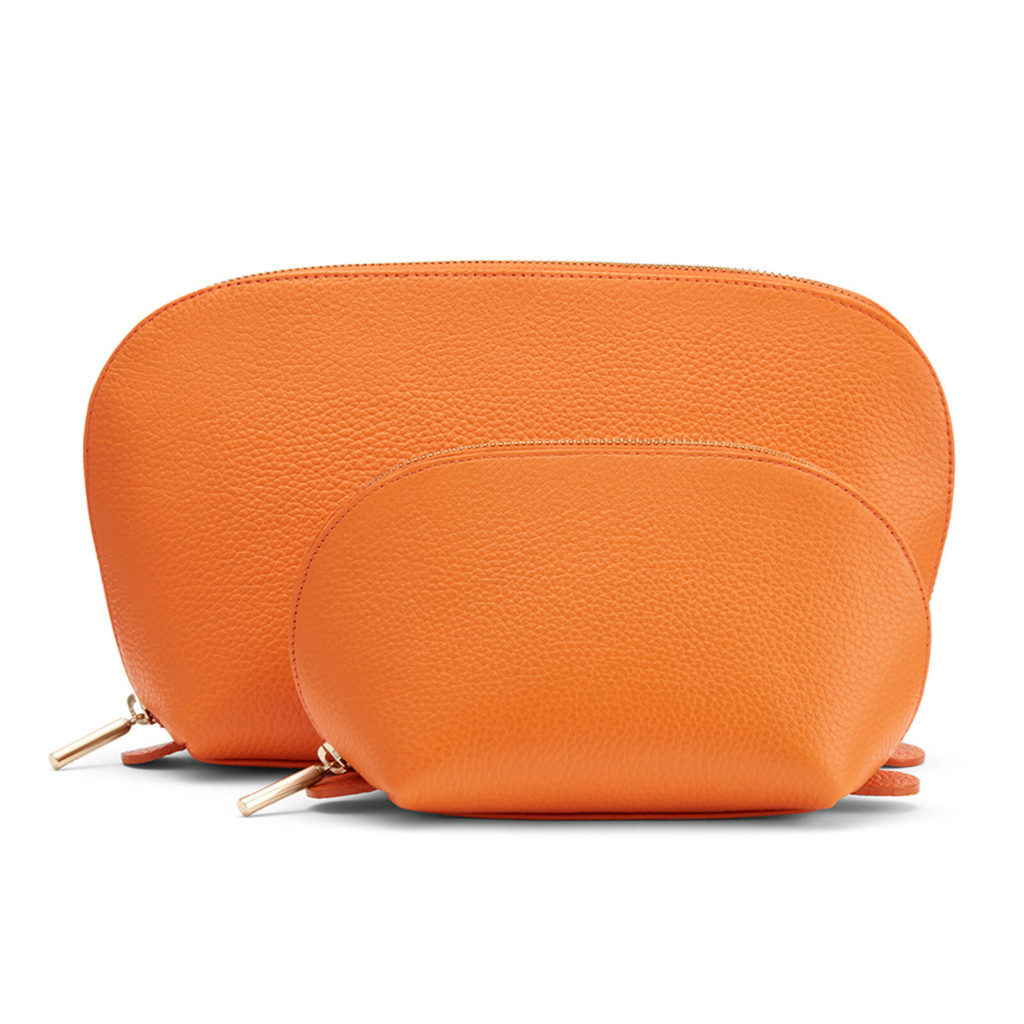 Cuyana's variation of a designer cosmetic bag is our most underrated pick on this list and sits at a comfortable $120. The domed-design duo does double duty, so you can divide up your essentials and stay more organized. All of Cuyana's designs come in pebbled leather and microfiber lining so that you don't need to worry about scratching or stains.
This designer cosmetic bag also comes in the largest array of color options – a total of 16 – including a limited tenth-anniversary edition in orange. The brand is a part of the Leather Working Group (LWG), which practices responsible leather tanning processes performed with family-owned workshops that are backed by two generations of knowledge.
Both designer travel cosmetic bags weigh a total of one pound. The larger of the two pouches come with a small interior pocket and measures 12 inches long, 7 inches tall, and 3.5 inches deep, while the smaller of the set is 8 inches long, 5 inches tall, and 2.5 inches deep.
Overall, Cuyana has proven to be cost-effective and detail-oriented, going above and beyond to make a designer cosmetic bag you can feel good about using.
#5 – Fendi Small Beauty Designer Cosmetic Bag
Fendi's coated canvas interpretation of a designer travel cosmetic bag leans more on the boxy side. The real star of the show is their futuristic vertigo-like motif that covers the entirety of the bag, which is priced at $520. It comes in blue/white and brown/black, and has a gold zipper that seals it shut. 
The bright pop of yellow in this bag combined with the bold monogram design makes it very recognizable and cutting edge. It also doesn't take up too much room in a large purse or duffle, as it's 5.9 inches long, 4.5 inches tall, and 3.3 inches deep.
Finally, let's get into a few final nitty-gritty details: there's a small pocket on the inside of this bag, which is manufactured in Italy. And there are small leather details on the zipper and loops which are made of 100% calf leather.
Whether you're throwing in some toiletries for a weekend away or using this cosmetic bag to organize a large purse, Fendi delivers the extra pizazz that will up your style cred.
#6 – Botegga Veneta Small Jacquard Designer Cosmetic Bag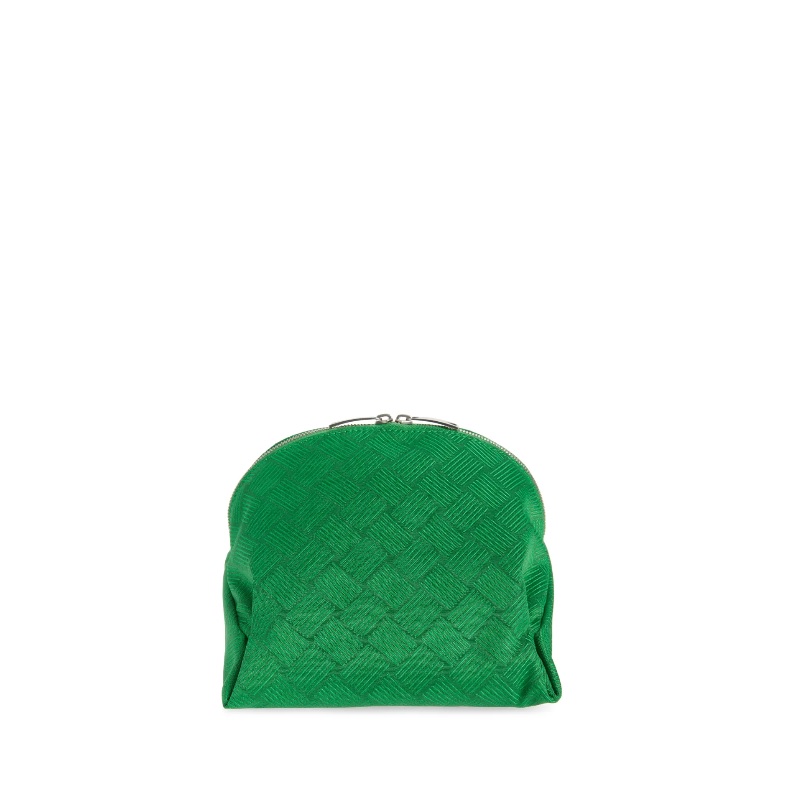 Bottega Veneta offers something different with their free-form pouch, in a soft and flexible textile that will mold to all your essentials. Plus, it comes in two fun colors – a silver-toned blue and a tropical green – that give us all the vacation vibes. 
Bottega is well-known for their trademarked weave design that covers the famous Padded Cassette bag, and we see a cheeky nod to this with the jacquard fabric used on the exterior. Priced at $570, you can fit a lot between the two-way zipper that allows for quick and easy access. 
Silver-toned hardware decorates this 8-inch long, 5-inch tall, and 5-inch deep cosmetic bag, the only downfall being it's loose shape. For the woman who prefers her cosmetics upright, take caution against this one – it won't keep you very organized, but it will easily fit into the nooks and crannies of your purse.
#7 – Anya Hindmarch Night and Day Designer Cosmetic Bag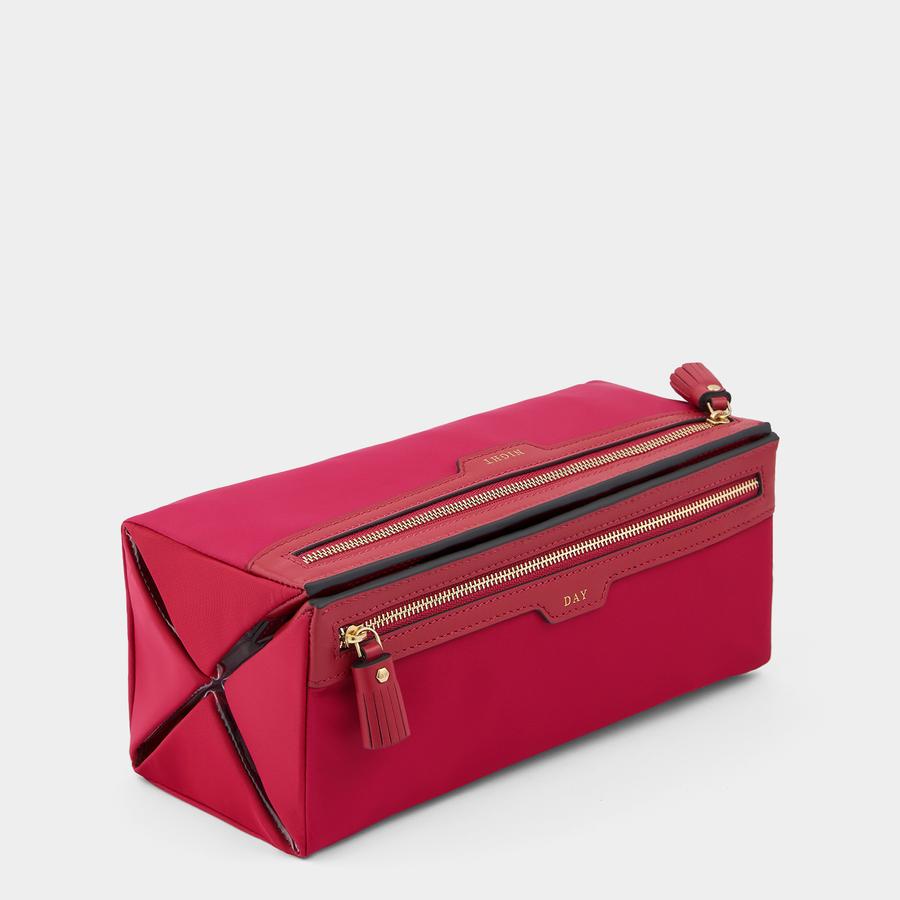 Anya Hindmarch's Night and Day Designer Cosmetic Bag has the most innovative fold-out design, but it's less suited for the everyday purse. Made to be a compact organizer for travel, its sections are labeled so that you're able to quickly spot the products you need inside. 
The four compartments are for face, teeth, hair, and body, and in true Hindmarch style they are made from recycled nylon. As if this cosmetic bag wasn't organized enough, it has two outer pockets labeled day and night, so you can pack in a few extra bits for easy access and extra storage.
Another cool feature of this travel bag is the gold hook that you can use to hang it up on the back of a bathroom door. The rest of the metal details on the bag are also in gold.
The dimensions of this $368 designer travel bag are 7 inches long and 9.8 inches tall when it is fully unzipped, and it comes in hot pink or black calf leather. The areas of the bag that are the most susceptible to damage are made of nylon, so it ranks fairly well on our durability scale. Just be careful around damp environments and liquids.
#8 – Marc Jacobs Beauty Triangle Designer Cosmetic Bag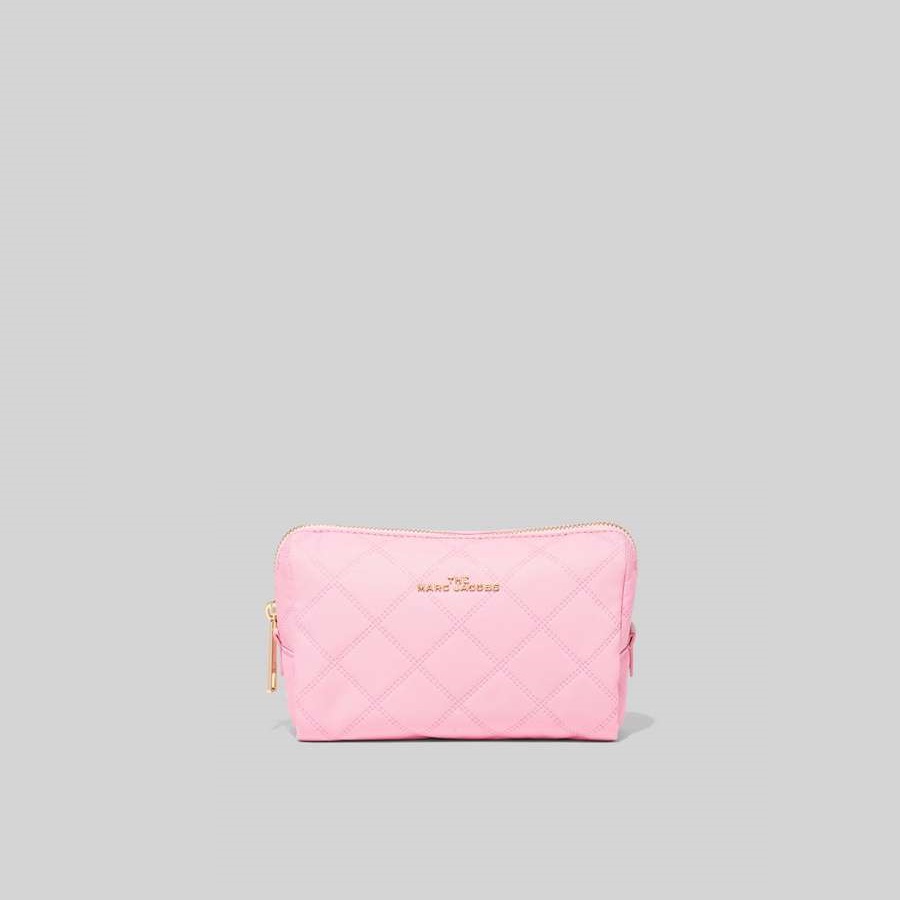 The next best designer cosmetic bag on our list comes from Marc Jacobs, who provides a sprinkle of Chanel vibes with his quilted nylon cosmetic bag. At first glance, you'll notice the gold-toned plaque at the front which is flanked with a gold single-zip closure. The rest of the bag remains quite understated with beautiful double-stitched detailing. 
The feminine design is played up with fun and flirty colors like baby blue, light pink, red, and black. The quilted detail is similar to the likes of Gucci's cosmetic bag, but it comes without a hefty price tag at $104.35. However, unlike Gucci, this bag lacks the same edge and opulence. It weighs in at 8 inches long, 6 inches tall, and 4 inches deep, for reference.
#9 – Mulberry Darley Designer Cosmetic Bag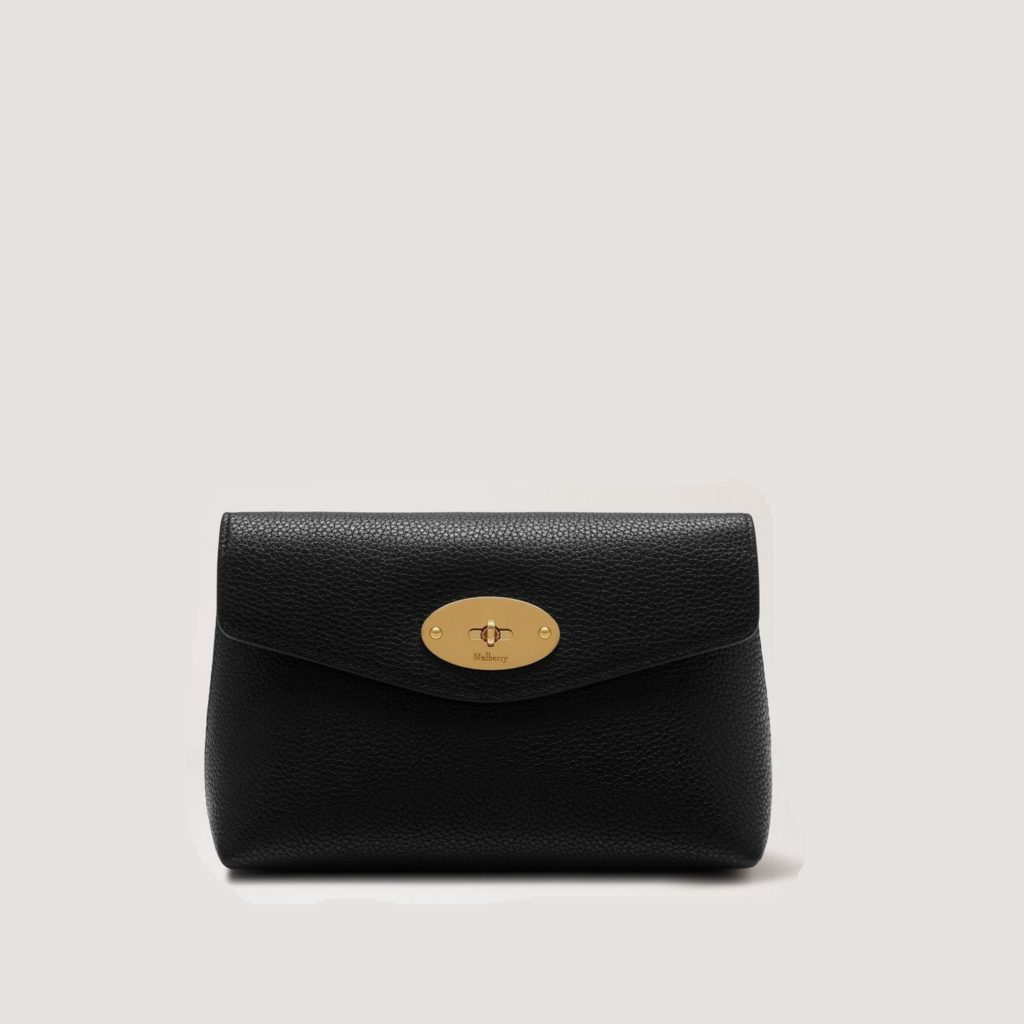 The Mulberry cosmetic pouch oozes sophistication and is different from all the others in style, with a top flap and brass turn-lock closure. It is made of small-grained cow leather that has been treated to protect its surface from scratches. The gorgeous contrasting interior is the colour plum and made of long-lasting polyurethane. 
This cosmetic bag comes in a few different shades, including black, bright pink, brown, and bright blue. The brown and blue options are on sale right now for $224, if you're looking to snag it at a deal.
It's constructed with one main compartment, but because of the style and lack of a zipper, there's a chance that some of your items may fall out if the lock is not properly fastened. Made with leather sourced from Italy, the dimensions of this beauty are 7.3 inches in length, 5 inches tall, and 2.5 inches deep.
#10 – Smythson Panama Designer Cosmetic Bag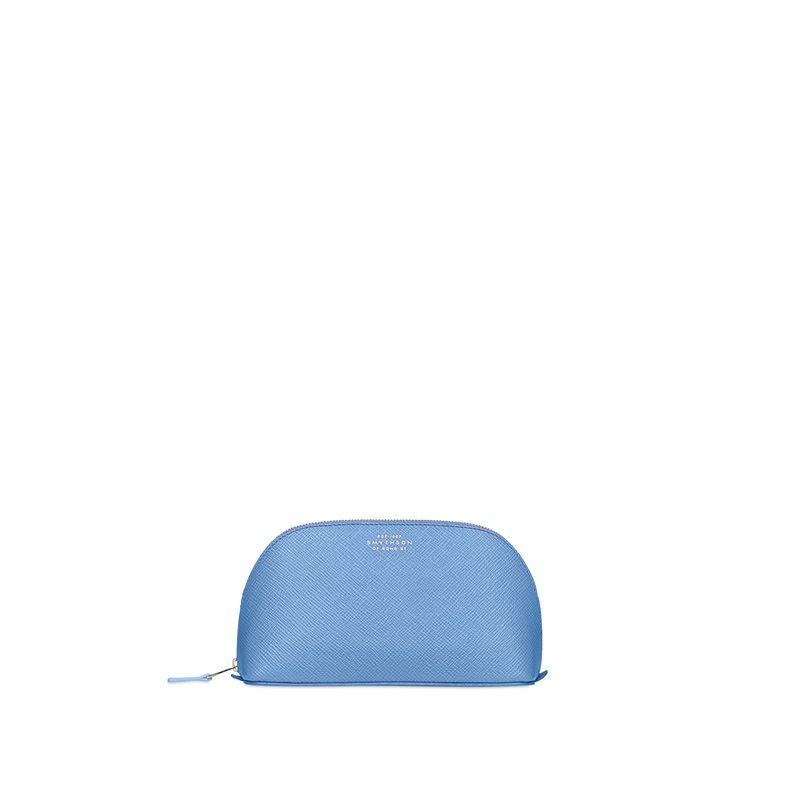 Last on our list of the best designer cosmetic bags is a classic dome pouch by Smythson. Smythson's $317 version comes in Panama cross-grain leather, which at first glance is reminiscent of Louis Vuitton's iconic epi leather. Made in Italy, the calf leather design is feather-light and lined with a grey, oil-resistant textile fabric.
The brand uses gold on all of its zippers and has included an elasticated inner-wall pocket that expands with whatever is placed inside. This designer cosmetic travel bag also comes in a variety of neutrals and a few fun pops of colour: they have your classic black, tan, beige, white, and navy, but the range also includes a beautiful blue and a bold red finish. The dimensions are 7 inches long by 4 inches tall and 3 inches deep.
Travel Bag vs Cosmetic Bag: What's the difference?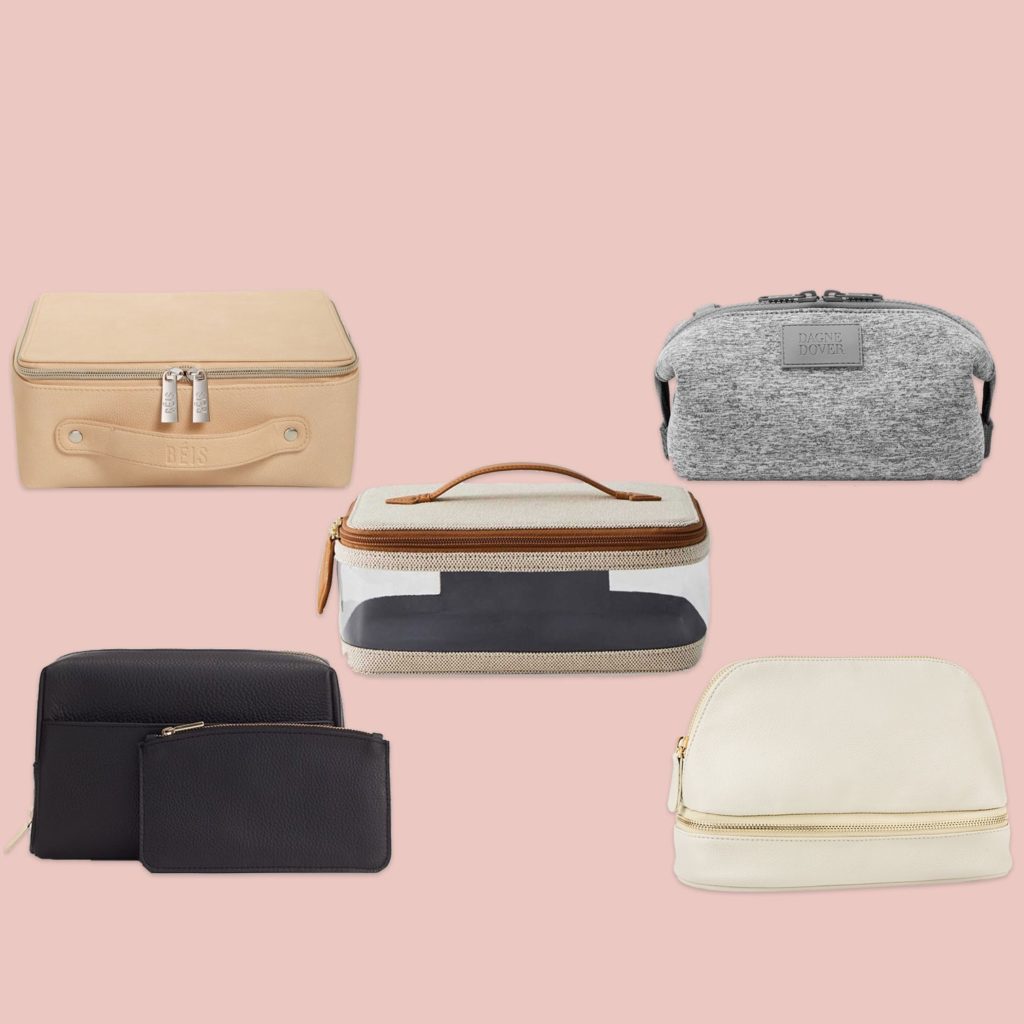 Now that we've broken down all the details on our best designer cosmetic bags, you might find yourself wondering what the difference is between a travel bag and a cosmetic bag. The answer to this question would come down to two main things: form and function.
When you look at the Anya Hindmarch Night and Day Designer Cosmetic Bag, it is an extreme example of a design that was made for vacations and sitting atop your bathroom counter. Although it's not as practical to throw inside your purse, it has a much greater holding capacity.
In contrast, a cosmetic bag would be any small pouch that has an easy access point around the top. The idea is to store a couple of essentials that you can't get through your day without inside.
What size of cosmetic bag do I need?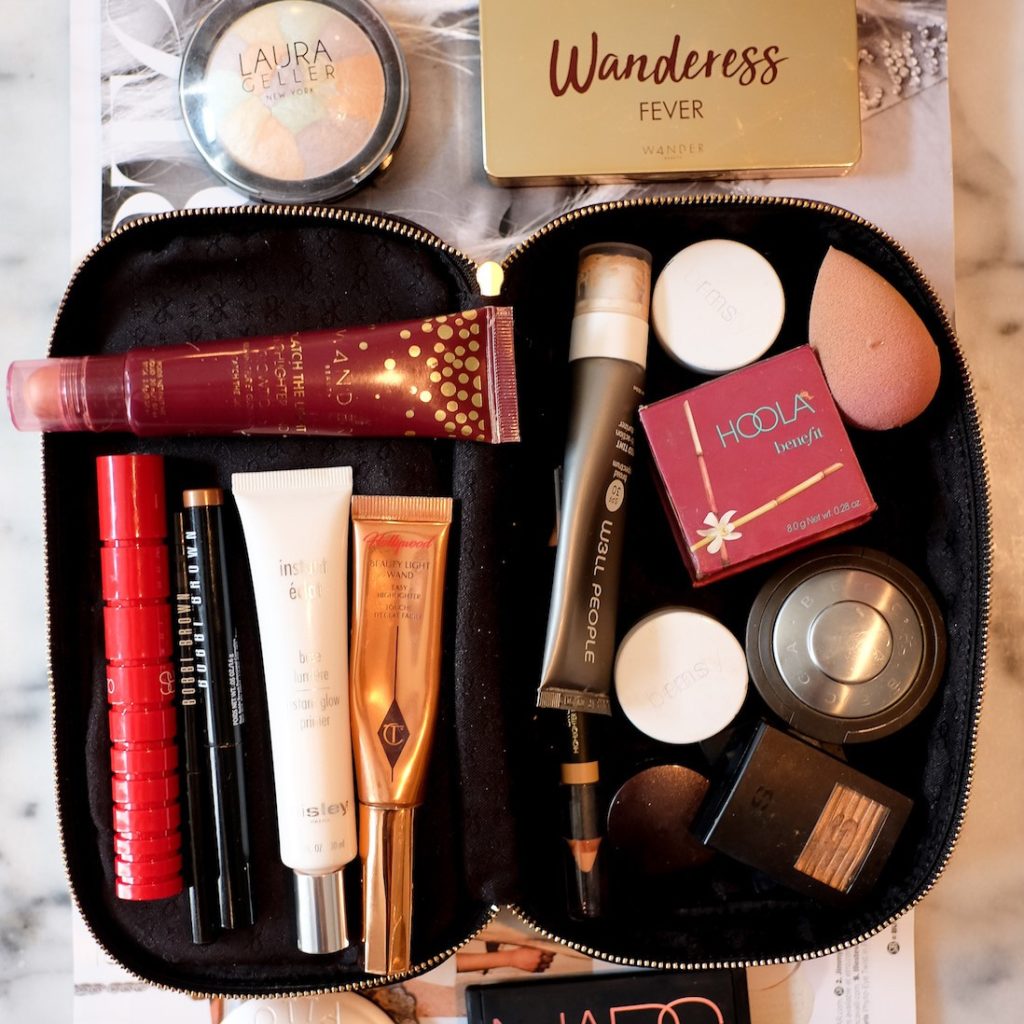 Determining what size of cosmetic bag you need depends on how you intend to use it and what you plan to stuff it with. Take into account that the capacity of a bag is affected by how rigid the walls are. For example, soft, flexible walls will allow the bag to expand to fit more.
Many of the options on this list are comparable in size, but sometimes an extra inch of height can make or break what you want to fit inside. Consider how you like to store your items: do you throw everything in, or do you like to file everything neatly? Also, will it fit easily into your handbag of choice?
Which designer cosmetic bag is the best?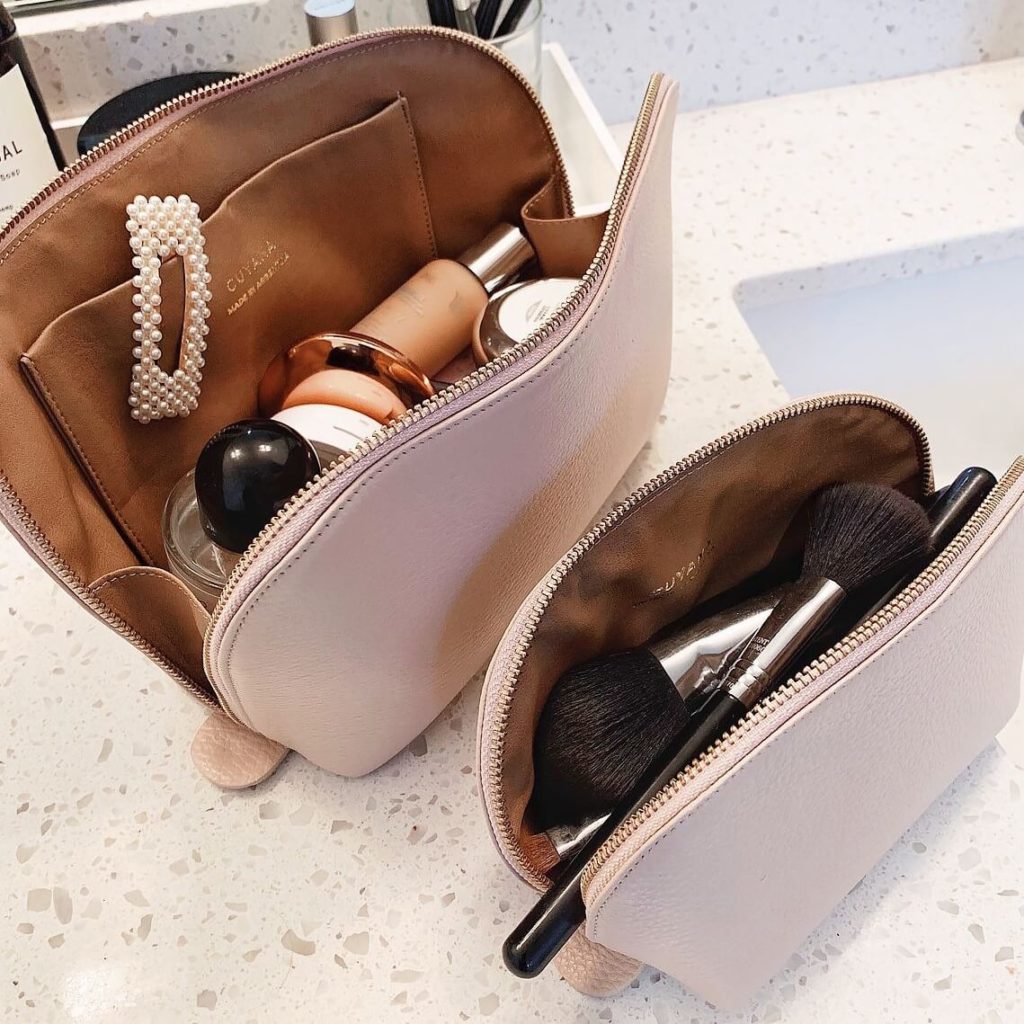 Here are the awards for the best designer cosmetic bags per category:
Best Value for Money: Cuyana gave us an extremely chic and minimalist leather duo that packed a punch of colour. The bag's effortless design and easy style made it the perfect travel or vanity companion. It's extremely versatile and was the second most inexpensive option on our list at $120. Also, we love a good monogram.
Most Affordable: Marc Jacobs delivered a very durable and feminine find for a slick $104.35. We love the youthful colourways and the convenient size. Its double-stitched quilting was definitely the standout.
Most Innovative: Honorable mention goes to Anya Hindmarch's unique and functional design. Extra points for all the little labels to help keep us organized, and for her use of recycled materials. We love how this design is expandable and compactable.
With all these considerations in mind, remember that buying a luxury item should be fun. Not everyone will jive with every brand out there – your friend's Gucci cosmetic bag might speak to her style, but staying power might be more important to you. So, whichever bag you choose, we hope these guidelines help point you in the right direction.
Get Access to Exclusive Deals
Subscribe for free to get exclusive deals in your inbox. 100% privacy